1.4.12 Auswirkungen des Klimas Teil IV


en

Effects of Climate Change Part IV


fr

Conséquences du changement climatique Partie IV
---
---
⇐ de Teil III en Part III fr Partie III
| | | |
| --- | --- | --- |
| | | |
1 Auswirkungen des Klimas auf die Biosphäre der Erde


en

Climate immpacts on the bioshphere


fr

Impacte du climat sur la biosphère
---
en

CO

2

Plant Food & Giver of Life
en Seeing is Believing
Isolated for 42 days in chambers of ambient and elevated CO2 concentrations, we periodically document the growth of cowpea plants (Vigna unguiculata) via time-lapse photography.

en Matt Ridley on How Fossil Fuels are Greening the Planet
Over the past three decades, our planet has gotten greener!
Even stranger, the greening of the planet in recent decades appears to be happening because of, not despite, our reliance on fossil fuels.
While environmentalists often talk about how bad stuff like CO2 causes bad things to happen like global warming, it turns out that the plants aren't complaining.

The giver of life
This is a short description of the process of photosynthesis and how the carbon dioxide molecule gives us life as well as heat


The graphs show how the rate of photosynthesis varies with irradiance, the three experiments differing only in the concentration of CO2.

The lowest graph is that for a CO2 concentration of 0.03%, much as it is at this time [actually ~385 ppmv or 0.0385%].

In the early part of the graph the rate of the reaction is related almost directly to the amount of irradiance, but the rate falls off at higher irradiances and eventually levels off.

This tells us that at higher irradiances it is the concentration of CO2 that limits the reaction rate, there is sufficient light falling on the leaves, but the requirement for more CO2 is the limiting factor.

We strongly object to CO2 being regarded as a pollutant; it is the giver of life and we all depend upon its chemical and radiative properties.
de

Mehr CO

2

macht die Erde grüner und bedeutet Ertragsteigerung in der Landwirtschaft!

Mehr CO2 macht die Erde grüner!
EIKE Europäisches Institut für Klima und Energie
2009-09-24 de Mehr CO2 macht die Erde grüner!

Noch nie in den letzten Jahrzehnten oder Jahrhunderten war die Erde grüner als heute - dank des gestiegenen CO2-Gehaltes der Atmosphäre.

Wie Lawrence Solomon berichtet, ist in den letzten 20 Jahren die globale biologische Produktion um mehr als 6% gestiegen.

Rund 25 % der Landmasse zeigten einen erheblichen Zuwachs, während nur 7 % einen Rückgang verzeichneten.
Die globale Erwärmung, so sie wirklich stattfinden würde, wäre ein Segen für uns
EIKE Europäisches Institut für Klima und Energie
2011-08-25 de Die globale Erwärmung, so sie wirklich stattfinden würde, wäre ein Segen für uns

Regierungsagenturen und internationale Institutionen, die hartnäckig daran gearbeitet haben, das CO2 als einen gefährlichen Verschmutzer zu brandmarken, haben der Öffentlichkeit einen gewaltigen Bärendienst erwiesen.

Dies sagte Dr. Craig Idso, ein Wissenschaftler und Autor vor Mitgliedern der American Legislative Exchange Council (ALEC) auf deren Jahrestreffen vor einigen Wochen.

Im Gegensatz zu den weithin kolportierten Meldungen ist CO2 eine Schlüsselkomponente für das Leben auf der Erde, die positive Auswirkungen auf Umwelt und Menschheit im Besonderen hat, führte Idso in seinem Vortrag in New Orleans aus.
de Mehr CO2 bedeutet Ertragsteigerung in der Landwirtschaft
EIKE Europäisches Institut für Klima und Energie
2009-09-24 de Mehr CO2 bedeutet Ertragsteigerung in der Landwirtschaft

Der seit Ende des 19. Jahrhunderts gestiegene CO2-Gehalt der Luft wird als wesentliche Ursache der globalen Erwärmung angesehen.

Weiter Zunahmen sollen zu ökologischen Schäden führen, die sich negativ auf die Menschheit auswirken.

CO2 wird damit zum gefährlichsten Umweltgift abgestempelt.

Völlig ignoriert wird, dass CO2 ein Grundstoff für jegliches Leben auf unserem Planeten darstellt.
de

Kohlensäuredüngung
Der Spiegel
1984-02-13 de Ein neues Verfahren der Kohlensäuredüngung soll gesundes Pflanzenwachstum ohne Gifte erzielen

Daß die Pflanzen für ihr Wachstum Kohlendioxid brauchen, wußte Kückens noch aus seiner Schulzeit.

Wie bedeutsam das Gas CO2, das sich mit Wasser zu Kohlensäure verbindet, für den Kreislauf des Lebens ist, hat er sich inzwischen angelesen.

"Und dann", sagt Kückens, "habe ich einfach der Natur ein paar Tricks abgeguckt."

Die grünen Pflanzen dieser Erde schlucken pro Jahr etwa 60 Milliarden Tonnen Kohlendioxid.

Das CO2 wird von allen Lebewesen ausgeatmet und entsteht durch Verwesung und Verbrennung.

Wird es nicht gleich von den Blättern aufgenommen, steigt es in die Troposphäre auf und kommt mit dem Regen zurück.

Auch die Pflanzen selbst geben bei Dunkelheit Kohlendioxid ab.

Kohlendioxid ist aus manchen Böden kaum noch genug zu holen - das ist vielfach längst nicht mehr die nährende Humusschicht, Pflanzenschutzmittel haben CO2-produzierende Mikroorganismen (In seinem Ratzeburger Gewächshaus.) abgetötet.

Ein einfaches Saatkorn, das nicht chemisch behandelt wird, vergammelt in der Erde.

Der Mann in Ratzeburg hat längst erwiesen, daß er kein weltfremder Spinner ist.

In flachen Gewächshäusern, sogenannten Öko-Tunneln (SPIEGEL 47/ 1982), hat Kückens verschiedene Blumen und Nutzpflanzen gezogen.

Jeweils eine Reihe wurde normal gepflegt, eine zweite Reihe der gleichen Pflanzenart wurde unmittelbar daneben mit Wasser gegossen, das stark mit Kohlendioxid angereichert war.

Die Ergebnisse waren eindeutig.
Alle Pflanzen mit CO2-Düngung brachten zwischen 30 und 50 Prozent mehr Wachstum, blühten üppiger, trugen mehr und größere Früchte.
en

Surprise: Earths' Biosphere is Booming, Satellite Data Suggests CO

2

the Cause
This animation shows an average of 10 years worth of SeaWiFS data. Dark blue represents warmer areas where there tends to be a lack of nutrients, and greens and reds represent cooler nutrient-rich areas which support life.

The nutrient-rich areas include coastal regions where cold water rises from the sea floor bringing nutrients along and areas at the mouths of rivers where the rivers have brought nutrients into the ocean from the land.
Watts UP With That? (Antony Watts)
2008-06-08 en Surprise: Earths' Biosphere is Booming, Satellite Data Suggests CO2 the Cause

The planet is the greenest it's been in decades, perhaps in centuries.

Until the 1980s, ecologists had no way to systematically track growth in plant matter in every corner of the Earth - the best they could do was analyze small plots of one-tenth of a hectare or less.

The notion of continuously tracking global production to discover the true state of the globe's biota was not even considered.

Then, in the 1980s, ecologists realized that satellites could track production, and enlisted NASA to collect the data.

For the first time, ecologists did not need to rely on rough estimates or anecdotal evidence of the health of the ecology:
They could objectively measure the land's output and soon did - on a daily basis and down to the last kilometer.

The results surprised Steven Running of the University of Montana and Ramakrishna Nemani of NASA, scientists involved in analyzing the NASA satellite data.

They found that over a period of almost two decades, the Earth as a whole became more bountiful by a whopping 6.2%.

About 25% of the Earth's vegetated landmass - almost 110 million square kilometres - enjoyed significant increases and only 7% showed significant declines.

When the satellite data zooms in, it finds that each square metre of land, on average, now produces almost 500 grams of greenery per year.

Why the increase? Their 2004 study, and other more recent ones, point to the warming of the planet and the presence of CO2, a gas indispensable to plant life.

CO2 is nature's fertilizer, bathing the biota with its life-giving nutrients. Plants take the carbon from CO2 to bulk themselves up - carbon is the building block of life - and release the oxygen, which along with the plants, then sustain animal life.

As summarized in a report last month, released along with a petition signed by 32,000 U. S. scientists who vouched for the benefits of CO2:
"Higher CO2 enables plants to grow faster and larger and to live in drier climates.

Plants provide food for animals, which are thereby also enhanced.

The extent and diversity of plant and animal life have both increased substantially during the past half-century."

From the 2004 abstract: Our results indicate that global changes in climate have eased several critical climatic constraints to plant growth, such that net primary production increased 6% (3.4 petagrams of carbon over 18 years) globally.

The largest increase was in tropical ecosystems.

Amazon rain forests accounted for 42% of the global increase in net primary production, owing mainly to decreased cloud cover and the resulting increase in solar radiation.

Lush as the planet may now be, it is as nothing compared to earlier times, when levels of CO2 and Earth temperatures were far higher.

In the age of the dinosaur, for example, CO2 levels may have been five to 10 times higher than today, spurring a luxuriantly fertile planet whose plant life sated the immense animals of that era. Planet Earth is also much cooler today than during the hothouse era of the dinosaur, and cooler than it was 1,000 years ago during the Medieval Warming Period, when the Vikings colonized a verdant Greenland.

Greenland lost its colonies and its farmland during the Little Ice Age that followed, and only recently started to become green again.

This blossoming Earth could now be in jeopardy, for reasons both natural and man-made.

According to a growing number of scientists, the period of global warming that we have experienced over the past few centuries as Earth climbed out of the Little Ice Age is about to end.

The oceans, which have been releasing their vast store of carbon dioxide as the planet has warmed - CO2 is released from oceans as they warm and dissolves in them when they cool - will start to take the carbon dioxide back.

With less heat and less carbon dioxide, the planet could become less hospitable and less green, especially in areas such as Canada's Boreal forests, which have been major beneficiaries of the increase in GPP and NPP.

Doubling the jeopardy for Earth is man.

Unlike the many scientists who welcome CO2 for its benefits, many other scientists and most governments believe carbon dioxide to be a dangerous pollutant that must be removed from the atmosphere at all costs.

Governments around the world are now enacting massive programs in an effort to remove as much as 80% of the carbon dioxide emissions from the atmosphere.

If these governments are right, they will have done us all a service. If they are wrong, the service could be all ill, with food production dropping world wide, and the countless ecological niches on which living creatures depend stressed.

The second order effects could be dire, too.

To bolster food production, humans will likely turn to energy intensive manufactured fertilizers, depleting our store of non-renewable resources.

Techniques to remove carbon from the atmosphere also sound alarms.

Carbon sequestration, a darling of many who would mitigate climate change, could become a top inducer of earthquakes, according to Christian Klose, a geohazards researcher at Columbia University's Lamont-Doherty Earth Observatory.

Because the carbon sequestration schemes tend to be located near cities, he notes, carbon-sequestration-caused earthquakes could exact an unusually high toll.

Amazingly, although the risks of action are arguably at least as real as the risks of inaction, Canada and other countries are rushing into Earth-altering carbon schemes with nary a doubt.

Environmentalists, who ordinarily would demand a full-fledged environmental assessment before a highway or a power plant can be built, are silent on the need to question proponents or examine alternatives.

Earth is on a roll. Governments are too.

We will know soon enough if we're rolled off a cliff.
en

AGU says CO

2

is plant food - Thirteen Years of Greening

Thirteen Years of Greening from SeaWiFS - image from NASA Earth Observatory

Watts UP With That? (Antony Watts)
2013-05-31 en AGU says CO2 is plant food

A study of arid regions around the globe finds that a carbon dioxide "fertilization effect" has, indeed, caused a gradual greening from 1982 to 2010.
Quellen / Sources:
NASA Earth Observatory
2011-04-05 en Thirteen Years of Greening from SeaWiFS

We got 13 years of incredible data out of this amazing little satellite.

From 1998 to 2010, the Sea-viewing Wide Field-of-view-Sensor, or SeaWiFS, made a simple but elegant measurement: how "green" is the Earth.

That is, how much chlorophyll-the pigment that helps turn sunlight into organic energy for plants-is present in the seas and on land.

Those measurements offered a window into the planet's ability to support life.

The long, well-calibrated data record also gives scientists one of the best benchmarks to study the planet's biological response to a changing environment.

2011-04-04 en The End of a Remarkable Mission: SeaWiFS' Thirteen Years of Observing our Home Planet
fr

Plantes, forêts et CO

2
fr

Deux études récemment parues montrent que le soja, le blé et le riz bénéficient bel et bien de gains de productivité importants en milieu CO

2

enrichi, contrairement à de récentes assertions en sens contraire, et que les forêts soumises aux mêmes conditions d'enrichissement en gaz carbonique ne souffrent pas de carence en azote.
de

Klimawandel lässt Kartoffeln, Zuckerrüben und Soja üppig sprießen
Tomaten

Eine Verdopplung des natürlichen CO2-Gehalts der Erdatmosphäre unter Gewächshausbedingungen auf 700-900 ppm bewirkt eine deutliche Zunahme der Größe des Gemüses und zudem werden Faulprozesse gehemmt.

Auch würden sich vermehrt gesundheitsfördernde Stoffe in den Tomaten bilden.

Kartoffeln

Deutsche Bauern im Glück.

Die Bodentemperaturen sind in den vergangenen 50 Jahren um fünf Grad gestiegen.

Die deutschen Landwirte freut's - die Erträge fallen üppiger aus.

Die deutschen Landwirte dürften dank höherer Erträge unter dem Strich vom Klimawandel profitieren.

Mais, Hirse, Sonja

Auch der Mais dürfte in Deutschland zu den Gewinnerpflanzen des Klimawandels gehören.

Auch der Anbau von Hirse wird mit wärmeren Temperaturen deutlich attraktiver.

Soja, bislang zu empfindlich für hiesige Breitengrade, wird derzeit in Bayern bereits erprobt.
en

Deserts 'greening' from rising CO

2
Watts Up With That? (Antony Watts)
2013-07-08 en Deserts 'greening' from rising CO2

Increased levels of carbon dioxide (CO2) have helped boost green foliage across the world's arid regions over the past 30 years through a process called CO2 fertilisation, according to CSIRO research.
High CO
2

boosts plant respiration, potentially affecting climate and crops
Mehr CO
2

- mehr Wasser - die Vegetation boomt weltweit!
de

Warme Luft enthält mehr Wasser. Satellitenbeobachtungen und Klimamodelle stimmen überein, dass jede weltweite Temperaturerhöhung um 1 °C die Menge an Wasserdampf in der Atmosphäre um etwa 6.5% erhöht.
Satellitenbeobachtungen nahe legen, dass die Klimamodelle betreffend Niederschläge allgemein falsch liegen.
Die ganze Biosphäre profitiert bisher von der globalen Erwärmung, was manchen Katastrophenszenarien - auch im IPCC-Bericht - widerspricht.
Warmes Wetter bringt Feuchtigkeit


en

Warmer world gets wetter


fr

Plus chaud et plus humide .
de

Satellitenbeobachtungen lassen darauf schliessen, dass die Klimamodelle falsch sind.

en

Satellite observations suggest climate models are wrong on rainfall.
en

Global warming will increase worldwide precipitation by three times the amount predicted by current climate models, according to a study based on two decades' worth of satellite observations.
Global Warming & Greentech
EcoWorld - Nature & Technology in Harmony
Reforesting Reduces Droughts
EcoWorld - Nature & Technology in Harmony
2 Auswirkungen auf den Säuregehalt (PH-Wert) der Meere
Allgemein


en

General


fr

Général
Meist nur Panikmache
en Generally: Panic
fr Généralement: La panique
Forschungen


en

Research


fr

Recherches
Welche Rolle spielt die Ozeanversauerung?
Eine Wissenschaftssparte mit noch vielen Fragezeichen
Die kalte Sonne (Fritz Vahrenholt & Sebastian Lüning)
2012-04-29 de Welche Rolle spielt die Ozeanversauerung?
Eine Wissenschaftssparte mit noch vielen Fragezeichen

Durch Emissionen fossiler Kohlenwasserstoffe ist der CO2-Gehalt der Atmosphäre in den letzten 150 Jahren von 0,028 Prozent auf 0,039 Prozent angestiegen.

Das Verhältnis zwischen atmosphärischem und in den Ozeanen gebundenem CO2 ist seit 1850 trotz ansteigendem, anthropogenem CO2-Ausstoß gleichgeblieben und das Puffervermögen der Ozeane hat daher noch nicht abgenommen.

Die Weltmeere speichern momentan um die 40.000 Gigatonnen Kohlenstoff, wobei im Ozean damit zur Zeit etwa 50-mal mehr CO2 gespeichert ist als in der Atmosphäre, und 20-mal mehr als in der terrestrischen Biosphäre und den Böden.

Der limitierende Faktor ist der Transport des aufgenommenen Kohlenstoffs in die tieferen Meeresschichten ist die behäbig operierende "biologische Pumpe":


CO2 wird dabei von Meeresorganismen über Photosynthese aufgenommen und in organische Substanz eingebaut.

Absterbende Organismen sinken in die Tiefe, was den Kohlenstoff aus der Oberflächenschicht entfernt.

Zu beachten ist weiterhin, dass der CO2-Druckunterschied zwischen Atmosphäre und Ozeanwasser regional variiert.

Es gibt daher Meeresgebiete, die CO2 aus der Atmosphäre aufnehmen und Meeresgebiete die CO2 an die Atmosphäre abgeben.

Während sich das CO2 in der Atmosphäre weitestgehend chemisch neutral verhält, also nicht mit anderen Gasen reagiert, ist es im Ozean chemisch aktiv.

Gelöstes CO2 trägt prinzipiell zur Absenkung des pH-Wertes bei und das Meer wird saurer.

Dieser Effekt ist bereits messbar.

Der pH-Wert des Oberflächenwassers der Meere ist von 8,2 im Mittel um 0,1 Einheiten gesunken.

Ein pH-Wert von 7 ist neutral.

Von einem ganzzahligen pH-Wert zum nächsten ändert sich die Wasserstoff-Ionen-Konzentration um eine Zehnerpotenz.

Das Meerwasser ist daher heute noch immer deutlich basisch und liegt nicht im sauren pH-Bereich, wird jedoch offenbar "saurer".
Droht unseren Ozeanen die Übersäuerung durch den CO
2

Anstieg?

Willis Eschenbach

R. Leistenschneider
Carbon Isotope Mass Balance Modeling of Atmospheric vs. Oceanic CO
2
EPOCA (European Project on OCean Acidification)
Europäisches Experiment zur Ozeanversauerung in Spitzbergen
de Aus der Panik-Küche en From the panic laboratory fr De la marmite des alarmistes
Das umfassende EU FP7 Integrationsprojekt EPOCA (European Project on OCean Acidification) startete im Mai 2008.
Sein Ziel ist es, Wissenslücken zur Ozeanversauerung und deren Konsequenzen zu schließen.
Die Kooperation verbindet mehr als 100 Wissenschaftler von 27 Instituten aus neun Ländern.
Die Forschung des auf vier Jahre angelegten Projektes wird von der Europäischen Kommission gefördert.
Folgende Partner-Institute von EPOCA nehmen am Experiment auf Spitzbergen teil:
Alfred-Wegener-Institut für Polar- und Meeresforschung (AWI, Deutschland),
Centre National de la Recherche Scientifique (CNRS, Frankreich),
Leibniz-Institut für Meereswissenschaften (IFM-GEOMAR, Deutschland),
Natural Environment Research Council (NERC, Großbritannien),
Netherlands Institute of Ecology (NIOO, Niederlande),
Plymouth Marine Laboratory (PML, Großbritannien),
Royal Netherlands Institute for Sea Research (NIOZ, Niederlande),
Station Biologique de Roscoff (Frankreich),
University of Bergen (UiB, Norwegen).
Weitere Teilnehmer:
Norsk Polarinstitutt (Norwegen),
University of Aarhus (Dänemark),
University of Oslo (Norwegen)
Das Experiment wird logistisch neben Greenpeace von der französisch-deutschen Forschungsstation AWIPEV und der Forschungseinrichtung Kings Bay sowie finanzieller Unterstützung durch das EU Projekt MESOAQUA (Network of European marine mesocosm facilities) unterstützt.
Entwarnung


en

All-clear


fr

Fin de l'alerte
en Panic
The world's marine ecosystems risk being severely damaged by ocean acidification unless there are dramatic cuts in CO2 emissions, warn scientists.

BBC
2009-01-30 en Acid oceans 'need urgent action'
en All-clear
en This sounds very alarming, so being diligent researchers we should of course check the facts.

The ocean currently has a pH of 8.1, which is alkaline not acid.

In order to become acid, it would have to drop below 7.0.

According to Wikipedia "Between 1751 and 1994 surface ocean pH is estimated to have decreased from approximately 8.179 to 8.104."

At that rate, it will take another 3,500 years for the ocean to become even slightly acid.

There seems to be no shortage of theories about how rising CO2 levels will destroy the planet, yet the geological record shows that life flourished for hundreds of millions of years with much higher CO2 levels and temperatures.

Watts up with that? (Antony Watts)
2009-01-31

en

Ocean Acidification and Corals
fr Vous allez comprendre:
Il y a cinquante cinq millions d'années, pour des raisons inconnues mais sûrement pas du fait de l'homme qui n'existait pas à l'époque, non plus que des dinosaures qui venaient de disparaître, la proportion de CO

2

dans l'atmosphère était très élevée : En gros trois fois plus qu'aujourd'hui. On estime que la température du globe était de 5°C supérieure à celle d'aujourd'hui

En se dissolvant dans l'eau de mer, le CO

2

se transforme en acide, ce qui représente un risque pour la faune et la flore des océans. Les planctons devraient être particulièrement touchés par cette acidification. Or, comme vous le savez, les planctons qui sont des microorganismes qui vivent en majorité près de la surface des océans, constituent la base de la chaîne alimentaire de la gent aquatique. Les petits poissons mangent du planctons (les baleines aussi). Le moyens mangent les petits. Les gros poissons mangent les moyens et ainsi de suite. Il est donc essentiel de comprendre comment survivent (ou ne survivent pas) les différentes espèces de plancton présentes dans les océans pour pouvoir imaginer ce qui pourrait arriver à l'ensemble des espèces qui vivent dans l'eau de mer qui occupe 75% de la planète.
Voici ce que les chercheurs ont trouvé en examinant soigneusement les restes fossilisés des marges océaniques :
En gros, les planctons ont résisté beaucoup mieux que prévu à l'acidification des eaux de mers. Certaines rares espèces fragiles ont disparu, c'est exact. Mais l'évolution et l'adaptation expliquées par Darwin ont joué leur rôle avec une grande efficacité en inventant de nouvelles espèces mieux adaptées qui elles ont survécu sans problème. D'autres, les plus résistantes, ont traversé cette période chaude et riche en CO

2

, sans dommage. De manière générale, les auteurs de l'article observent que l'acidification des couches superficielles des océans n'a pas entraîné de calcification des espèces en voie de mutation naturelle et que cette dernière s'est déroulé sans anicroches. On observe simplement une légère accélération du processus de l'évolution naturelle. La Nature est vraiment merveilleuse !

En bref, cher lecteur(trice) rassuré(e), les mécanismes auto-adaptatifs de la vie sur terre ont joué à plein pendant cette période chaude et riche en CO

2

de l'histoire de la terre, sans générer de nouvelles monstruosités, sans produire d'extinction radicale des espèces de plancton comme nous le serinent quotidiennement les prédicateurs de l'apocalypse comme Al Gore ou Sir Stern !
Verschiedene Webseiten


en

Websites


fr

Sites web
"Evil twin of global warming"
Source:
de Aus der Panik-Küche en From the panic laboratory fr De la marmite des alarmistes
Message with comments:
Comments:
Seafriends Org
2007

en

Ocean acidification
Are oceans becoming more acidic and is this a threat to marine life?
3 Korallenriffs


en

Coral Reefs


fr

Récifs corallien
de

Kälte tötet Korallen


en

Record cold in Florida kills reef coral
Klimaskeptiker Info
2010-01-3011

de

Kälte tötet Korallen
Zum Standardrepertoire der Warnungen vor den Wirkungen der "globalen Erwärmung" gehört die Warnung vor einem Absterben der Korallen als Folge des Klimawandels.
In Florida zeigen jetzt Korallen Zeichen für erheblichen thermischen Stress als Folge der anhaltenden starken Kälte.
4 Bewässerung


en

Irrigation


fr

Irrigation
5 Winterkälte


en

Winter Chill


fr

Periode froide en hiver
6 Sterblichkeit


en

Dead rate
U.N-Report
Panikmache / Panic makers / Faiseurs de la panique
Realität / Reality / Réalité
Sterblichkeit im Winter


en

Winter Mortality


fr

Surmortalité en hiver
Excess winter deaths, England and Wales, 1999/2000-2009/2010
(estimated more deaths, compared with the average for the non-winter period)
UK Office for National Statistics
2010-11-23 en Winter Mortality

In the winter period (December to March) of 2009/10 there were an estimated 25,400 more deaths in England and Wales, compared with the average for the non-winter period (see definition below).

This was a decrease of 30 per cent compared with the number in the previous winter, but is slightly higher than the level seen in 2007/08.

The number of extra deaths occurring in winter varies depending on temperature, the level of disease in the population, and other factors.

Increases in deaths from respiratory and circulatory diseases cause most of the excess winter mortality.
Skyfall / Changement Climatique
2010-11-26 en Le changement climatique tue

Le gouvernement vient de publier cette semaine les statistiques de surmortalité en hiver.

Les chiffres font froid dans le dos, 25.000 décès pendant l'hiver 2009/2010, chiffre "en baisse" par rapport à l'année précédente mais dans la moyenne depuis 2000.

On imagine à peine le tintamarre médiatique si cette surmortalité concernait l'été, surtout lorsque cela se reproduit tous les ans.
7 Krankheiten

Die Beziehung von Erkrankungshäufigkeit
an Rückfalltyphus in Rußland (dicke Kurve)
und der Sonnenaktivität.

8 Malaria
Klimaerwärmung führt zur Abnahme der Malaria


en

Malaria study challenges warmer world predictions
Panikmeldungen
Entwarnung
Paul Reiter


Professor of medical entomology at the Pasteur Institute in Paris, France.
He is a member of the World Health Organization Expert Advisory Committee on Vector Biology and Control.
He was an employee of the Center for Disease Control (Dengue Branch) for 22 years. He is a Fellow of the Royal Entomological Society.
He is a specialist in mosquito-borne diseases such as malaria and dengue fever.
en The Distortion of the Malaria Issue by the UN and Al Gore - from The Great Global Warming Swindle


This video clip from the documentary video The Great Global Warming Swindle explains that claims made by organizations such as the United Nations Intergovernmental Panel on Climate Change (IPCC) about the spread of malaria due to the effects of global warming are false and have been fabricated for political purposes.

Professor Paul Reiter, an expert on insect-borne diseases explains that mosquitoes historically have been able to survive in areas as cold as the Arctic, and the most devastating outbreak of malaria occurred in the soviet Union in the 1920.
en

Climate change & mosquitos
Part 1 Part 2 Part 3


Professor Paul Reiter contibuted to the IPCC's 3rd assessment report & explains why Al Gore is wrong on many issues involving mosquitos & climate change.

Part 2: He continues his entertaining explanation on mosquitos, diseases & climate.


Part 3: Professor Paul Reiter was a part of the IPCC's 3rd assessment report & concludes his presentation on mosquitos, diseases and climate changes refuting what Al Gore says on the subject.
fr

Paul Reiter est un grand spécialiste mondial des maladies propagées par les moustiques telles que la malaria. Il est directeur de l'équipe "insectes et maladies infectieuses" de l'Institut Pasteur et a participé à de nombreuses et prestigieuses institutions internationales comme l'OMS.

Voici ce qu'il déclare dans un interview réalisé pour un documentaire qui est sorti le 8 mars 07 sur C4 BBC, "The great Global Warming Swindle".

fr

"L'affaire du réchauffement climatique est déguisée comme de la science mais ce n'est pas de la science : c'est de la propagande!

"J'ai été horrifié par ce que j'ai lu dans la partie II du rapport (NDLR : rapport du GIEC, la partie qui concerne les possibles épidémies liées au réchauffement climatique). Il y avait tellement d'informations erronées sans aucun recours à la littérature scientifique, la vraie littérature scientifique des spécialistes de ces problèmes!".

Paul Reiter profite de cet interview pour démolir une des idées préférées et généreusement propagées par le GIEC (et Al Gore dans "an unconvenient truth") qui déclare que "les moustiques ne peuvent survivre à des températures inférieures à 16 ou 18°C" , faisant ainsi craindre une extension de la malaria dans l'hémisphère Nord si celui-ci se réchauffe. Paul Reiter déclare que c'est absolument faux et que la densité de moustiques est très élevée en Arctique et, aussi, que la plus grande épidémie de malaria qui a fait plusieurs centaines de milliers de morts s'est produite dans le nord de la Russie, jusqu'en sibérie!

Et aussi de Paul Reiter, dans le même documentaire à propos des "meilleurs spécialistes du GIEC"

"Cette affirmation que le GIEC est composé des 1500 ou 2500 meilleurs savants du monde ? Vous jetez un coup d'oeil à la bibliographie, et vous voyez que c'est faux. Il y a dedans un grand nombre qui ne sont pas des scientifiques."

Et Richard Lindzen, lui aussi ancien membre du GIEC, donne des précisions:

"Et pour parvenir à faire monter le nombre jusqu'à 2500, ils sont dû recruter des journalistes, des gouvernementaux etc. n'importe qui proche d'eux à un moment quelconque, et on ne demande l'avis d'aucun d'entre eux ! Beaucoup d'entre eux ne sont pas d'accord!"

Paul Reiter en rajoute une couche !

"Ceux qui sont des spécialistes mais qui ne sont pas d'accord et qui démissionnent - j'en connais un grand nombre - On rajoute simplement leurs noms sur la liste des auteurs et ils font toujours partie de cette liste des fameux "2500 meilleurs scientifiques"! (NDLR : C'est exactement ce qui est arrivé à Paul Reiter qui a dû menacer le GIEC d'un procès pour que son nom soit enfin retiré de la liste)

en

"The global warming is dressed up as science but it is not science: it is propaganda!"

"I was horrified to read the second assessment report. There was so much misinformation, without any kind of recourse to the scientific literature, the truly scientific literature by specialists in those fields ! ".

Pensée unique

fr

Paul Reiter
Skyfall / Changement Climatique
9 Auswirkungen auf Tier- und Pflanzenarten
Panik
A new scientific report has warned that climate change could lead to the extinction of a million of the world's species as soon as 2050.
Nearly half of all protea flowering plants in South Africa 'could' become extinct due to climate change
Entwarnung
The warmest period of the last 150 years was the 1930s, not the present.
Clearly if the plants survived that period, they cannot be regarded as being vulnerable to 'climate change'.
The claims are therefore entirely speculative and without scientific foundation.
10 Auswirkungen auf Eisbären


en

Polar bears


fr

Ours polaires
Horrorgeschichten aus "Global Warming"
Polarbären ertrinken wenn der Meeresspiegel steigt ...
en Polar bears drown as the seas get higher ...
fr Les ours polaires se noient quant le niveau des océans monte ...
de Aus der Panik-Küche en From the panic laboratory fr De la marmite des alarmistes
Polar bear hearing affected to due global warming?
en

Scientists in California are testing the hearing of polar bears to try to find out whether the noises associated with melting Arctic ice could affect their ability to survive.

BBC Video
2008-09-30

en

How to test a bear's hearing

Fakten / Facts / Faits
Fakten:
Eisbären haben sich aus Braunbären seit ca. 3 Millionen Jahren entwickelt.

Eisbären bewohnen seit ca. 200'000 Jahren den arktischen Bereich.

Die Eisbären haben die letzten beiden Eiszeiten und Warmzeiten überlebt.

Seit der letzten Eiszeit vor ca. 10'000 Jahren hatten Sie keine Probleme im Holozänmaximum, dem wärmsten Zeitabschnitt vor ca. 7'000 Jahren.

Der WWF gibt die Zahl der Eisbären korrekt mit etwa 25'000 an.

Die weltweite Eisbärenpopulation lag in den 1960er Jahren nur bei ca. 5000 Tieren.

Seitdem ist diese Tiergruppe offensichtlich auf das Fünffache angewachsen.
de
Die kalte Sonne (Fritz Vahrenholt & Sebastian Lüning)
2012-05-016 de Nicht Wärme sondern Schrotflinten sind die größten Feinde der Eisbären

Al Gore
In den vergangenen Jahren wurde der unmittelbar drohende Untergang der Eisbären durch die Klimaerwärmung immer wieder lautstark verkündet.

In Al Gore's Oscar-prämierten Film "Eine unbequeme Wahrheit" kamen den Zuschauern Tränen in die Augen als sich ein verzweifelt im weiten Ozean paddelnder Zeichentrick-Eisbär mühsam auf eine rettende Eisscholle hievt, diese dann aber unter seinem Gewicht in mehrere Stücke zerbricht und der Eisbär scheinbar aussichtslos weiterziehen muss.
de Al Gore's Polar Bear

Greenpeace
Auch Greenpeace drückte auf die Tränendrüse der Fernsehzuschauer und präsentierte in einem Werbeclip einen tot im Wasser treibenden Trickfilm-Eisbären als Opfer der Klimakatastrophe.
de Klimawandel Greenpeace

IPCC
Der Eisbär musste auch als Werbe-Icone für den Bericht des Weltklimarats 2007 herhalten.

Anlässlich seiner Veröffentlichung druckten zahlreiche Zeitungen das Foto einer Gruppe von Eisbären ab, die sich offenbar an den Rest eines frei im Wasser treibenden Eisbergs klammerten.

Dem Leser blieb nur die Interpretation, dass sich der Eisberg bald vollends auflösen würde und die Eisbären ertrinken würden.

Verwendet wurde dies als Beleg, dass der Klimawandel zwangsläufig zum Aussterben der Eisbären führt.

Später stellte sich heraus, dass das Foto zu dem Zeitpunkt bereits 2 Jahre alt war und mitten in der natürlichen Eisschmelze des arktischen Sommers während einer Exkursion von einer australischen Studentin aufgenommen worden war.

Die Fotografin erklärte, dass sie die Eisbären dabei keineswegs in Gefahr wägte.

Der besagte Eisberg befand sich unweit des Festlandes in Schwimmentfernung.

Eisbären sind gute Schwimmer.
Die Geschichte hierzu ist in folgendem Video schön aufbereitet:
en Al Gore Versus the Polar Bears - The AGWA Fraud

Zeit für einen Faktencheck

Der WWF gibt die Zahl der Eisbären korrekt mit etwa 25.000 an.

Was die Organisation dem Leser leider nicht verrät ist, dass die weltweite Eisbärenpopulation in den 1960er Jahren nur bei ca. 5000 Tieren gelegen hat.

Seitdem ist diese Tiergruppe offensichtlich auf das Fünffache angewachsen.
Welt Online 2010-03-19 en Zum Abschuss frei

Der Eisbär ist älter als gedacht

Bis vor kurzem hatte man angenommen, dass der Eisbär "nur" 150'000 Jahre alt wäre.

Eine internationale Forschergruppe um Frank Hailer vom Senckenberg Institut Frankfurt hat die Abspaltung des Eisbären von den nächsten Verwandten, der Gruppe der Braunbären anhand von neuen DNA-Untersuchungen jetzt auf 600.000 Jahre vor unserer Zeit ausgedehnt.

Vielmehr war die Zeit durch eine sich wiederholende Abfolge von Kaltzeiten (Eiszeiten) und dazwischenliegenden Warmzeiten (Zwischeneiszeiten) gekennzeichne

Die ehemaligen Braunbären wurden zwar auf diese Weise allmählich zu Spezialisten des Eises, mussten aber auch mittlerweile sechs Warmzeiten überstehen, von denen einige deutlich wärmer waren als die aktuelle Warmzeit.

Eine schnelle Anpassungsfähigkeit des Eisbären an veränderte Umweltbedingungen, insbesondere an fehlendes Eis, muss also als Grundqualität dieser Tiergruppe angenommen werden, ansonsten hätten sie zahlreiche Wärme- und Kaltephasen nicht überstanden.

Expertenzitate

Eine schöne Sammlung mit Expertenzitaten zum Thema Eisbär und Klimawandel ist im folgenden Youtube-Clip enthalten .

Darin erinnern z.B. der Münchener Zoologe Joseph Reichholf sowie der Tierfilmer Andreas Kieling daran, dass der Eisbär auch die letzte Zwischeneiszeit (Warmzeit) gut überstanden hat.
de Zitate zur Aufklärung über das angebliche Eisbären-Aussterben in der Arktis !!

Polarexperte Richard Glenn vor dem Umwelt-Komitee des US-Senats

Der Polarexperte Richard Glenn bestätigte in einer Aussage von 2008 vor dem Umwelt-Komitee des US-Senats, dass Eisbären nicht nur auf dem Eis leben, sondern auch die nichtvereisten Randgebiete, inklusive dem Festland bevölkern.

Eine artgefährdende Gefahr für den Eisbären wäre daher von der aktuellen Wärmeperiode nicht zu erwarten.
de Polar Bear Hearing: Glenn Testimony

Fakten sorgfältig zu prüfen,
Auslassungen recherchieren
und Interpretationen hinterfragen

Selbst im Rahmen der Temperaturschwankungen der letzten 10'000 Jahre hat es Temperaturen gegeben, die höher oder ähnlich den heutigen waren.

Das arktische Meereis als Lebensraum für die Eisbären war daher ähnlich stark oder sogar noch stärker dezimiert wie heute.

Während des holozänen Klimaoptimums vor 6000 Jahren hat sich das arktische Eis stark zurückgezogen, was die Eisbären offenbar überlebt haben.

Und zur Zeit der Mittelalterlichen Wärmeperiode vor 1000 Jahren, als die Wikinger durch die eisarme Arktis zu ihren Entdeckungsfahrten nach Island und Grönland aufbrachen, muss das Meereis eine ähnliche Ausdehnung gehabt haben wie heute.

Der Eisbär blieb standhaft.

Wie bei fast allen Themen der religiös geführten Klimadiskussion lohnt es sich also, die Fakten sorgfältig zu prüfen, Auslassungen zu recherchieren und Interpretationen zu hinterfragen.
en
fr
Eisbären gerettet! Arktis friert wieder zu, weil es kälter wird.

Die Nachrichtenagentur ap meldet am 8.8.2009 dramatische Zahlen der arktischen Eisschmelze.

EIKE Europäisches Institut für Klima und Energie
2009-03-09 de Eisbären gerettet! Arktis friert wieder zu, weil es kälter wird

All diejenigen, die um das drohende Aussterben der Eisbären bangen, können aufatmen.

Satellitenmessungen belegen seit 4 Jahren eine stetige Zunahme der Eisbedeckung in der Arktis!

Mit 14,20 Millionen Quadratkilometern hat das arktische See-Eis im Februar 09 eine Rekordausdehnung eingenommen:

Um 150.000 Quadratkilometer ist die Eisbedeckung seit dem letzten Februar zugenommen.

Das ist ein Zuwachs von der Größe der halben Bundesrepublik.

Gegenüber Februar 2006 legte die Eisbedeckung gar um zweimal die Fläche der Bundesrepublik zu.

Um die Ursache vorweg zu nehmen: es ist kälter geworden.

Die globale Erwärmung der 1990'er Jahre ist zum Stillstand gekommen seit mehreren Jahren.

Die Graphik, die das jährliche auf-und-ab der Eisbedeckung wiedergibt, belegt die Eiszunahme minutiös.

Betrachten wir sie daher näher: Zunächst sieht man ein jährliches Pulsieren der blauen Kurve zwischen ca. 5 und 15 Mio Quadratkilometern.

Jedes Jahr bildet sich Eis im Winter und schmilzt im Sommer wieder weg. Jeden Februar / März ist der Hochpunkt erreicht und im Herbst der Tiefpunkt.

Es schmelzen etwa 10 Mio. Quadratkilometer weg und ebensoviel Eis bildet sich im Winter neu.

Die Maximal- und auch die Minimalwerte weichen geringfügig ab von Jahr zu Jahr.

Aber diese Abweichungen sind im Verhältnis zu den gewaltigen Schwankungen innerhalb jedes Jahres von ca. 10 Miio Quadratkilometern unbedeutend, vielleicht 1 Zehntel.

Schauen wir uns nun die Minima an, die Punkte der Sommervereisung.

Links, also ab 2002, haben wir Werte um die 6 Mio. herum und im Sommer 2007 einen Ausrutscher bis fast hinab auf 4 Mio.

Dieser Zeitpunkt wurde von vielen Politikern und ihren Kamerateams genutzt, die Bedeutung von Klimaschutzmaßnahmen dramatisch zu unterstreichen.

Aber bei genauem Hinsehen sieht man im Vergleich zu den Vorjahren: der Ausrutscher ist kein Beleg für einen Trend zur langfristigen globalen Erwärmung bzw. stetig abnehmenden Eisbedeckung:

Bereits 2008 zeigt sich, wie rasch sich die Eisbedeckung durch einen einzigen kalten Winter (2007 / 2008) wieder neu bildet.

Im Oktober 2008 hatte das Eis rund 30% gegenüber dem Vorjahr zugenommen (grün markiert).

Und das bei weiter steigendem CO2-Gehalt in der Luft.

Betrachten wir nun die Wintervereisung, die durch die Maxima bezeichnet sind.

Die Wintervereisung zeigt sich von dem Ausreißer vom Sommer 2007 in keiner Weise berührt.

Bereits ab 2007 zeigt die Wintervereisung nach dem leichten Absinken nach 2002 eine stetige Zunahme, die einleitend schon beschrieben wurde.

Freilich mutet die jährliche Sommerschmelze dramatisch an: 2/3 des gesamten Eises schmelzen jedem Sommer weg.

Das lässt so manchen erschrecken - aber jeden Winter friert alles wieder zu.

Kein Hinweis also auf "irreversible Prozesse" oder ?Kipp-Punkte?.

Ein Kipp-Punkt würde doch bedeuten, dass nach dem starken Schmelzprozess im Sommer 2007 eben KEINE Wiedervereisung eintritt sondern ein rasch beschleunigtes Umkippen zu immer weniger Eis von Jahr zu Jahr.

Aber genau das Gegenteil ist der Fall: die Natur beeilt sich, den natürlichen Zustand rasch wieder herzustellen:

In keinem der früheren Winter ist die Wiedervereisung (z.B. per Oktober) so stark, wie 2008. Nämlich um mehr als 10 Mio. Quadratkilometer, eine Fläche, fast 30 Mal so groß wie die Bundesrepublik.

Noch ein anderer Kurvenbereich bestätigt das Ausbleiben von Kipp-Punkten:
die stetige Abnahme der Maximalvereisung im Winter zwischen 2003 und 2005.

Wäre hier ein Kipp-Punkt im Spiel, so hätte ab 2006 die Vereisung nicht wieder zunehmen dürfen.

Dies ist ein klarer Beweis, dass das vorgeblich so sensible und instabile Arktisklima viel robuster ist, als von manchen Autoren und Stellen vermutet.

Die Prozesse sind nicht irreversibel.

Die Kurve ist auch im Hinblick auf die gesamte Treibhaus-Hypothese aufschlussreich!

Laut den Modellen soll ja an den Polen die Treibhauserwärmung am stärksten wirken.

Wenn aber das deutlichste Erwärmungs-Indiz, nämlich ein Rückgäng der polaren Vereisung, gar nicht stattfindet, so ist dies der klare Beweis dafür, daß die Treibhaus-Hypothese nicht stimmt.

Hier offenbart sich eine der Schizophrenien unserer Zeit:

Vor den Augen der ganzen Welt wird es von Jahr zu Jahr kälter? doch bestimmte Leute behaupten, es würde wärmer.

Dieser Umstand hat eine Bedeutung über den Tag hinaus!

Seine Auswirkungen werden uns noch beschäftigen, wenn die aktuelle Krise längst überwunden ist.

Nebenbei bemerkt, auf die Daten ist Verlass.

Die Quelle IARC ist eine Amerikanisch - Kanadisch - Japanische Gemeinschaftseinrichtung, die Satellitendaten auswertet und der Allgemeinheit zur Verfügung stellt. Das IARC geht auf eine Initiative von Al Gore, dem damaligen US-Vizepräsidenten und dem damaligen japanischen Ministerpräsidenten Hashimoto zurück.

Fazit:
in der Arktis ist heute so viel Eis wie üblich im langjährigen Durchschnitt.

Eine stabile Lage.

Den Spekulanten, die auf die bald eisfreie Nordwest-Passage gewettet haben und denen, die vorsorglich Grund auf Grönland gekauft haben, geht jetzt wohl "der A?. auf Grundeis".

Dem Platzen der Klima-Spekulationsblasen sehe ich allerdings mit gemischten Gefühlen entgegen, wurde hier doch enorm viel Geld in Engagements gesteckt, das nun vermutlich verbrennt, obwohl es in Zeiten der Krise an anderer Stelle dringend gebraucht würde.

Im Vergleich mit der Immobilien-Blase ist die Klima-Blase noch viel schlimmer: denn in den USA stehen nun immerhin reale Häuser für die Menschen.
| de | en | fr |
| --- | --- | --- |
| Auswirkungen des Klimas Teil I | Effects of Climate Change Part I | Conséquences du changement climatique, partie I |
| Arktis | Arctic | Arctique |
Mitchell Taylor - Alarmisten sperren Eisbärexperten aus


en

Polar bear expert barred by global warmists


fr

Expert exclu
de Vertreter der These globaler Erwärmung haben die Teilnahme des Eisbärexpertern Dr. Mitchell Taylor, der sich seit 30 Jahren intensiv mit den Eisbären beschäftigt, an der Klimakonferenz in Kopenhagen verhindert. Taylors Ansichten und Ergebnisse widersprechen den Hypothesen der Alarmisten, denn er schreibt die Erwärmung der Arktis statt dem CO2, wie es das IPCC und die Alarmisten vertretn, änderungen der Meeresströmungen und Winde zu.

Er sieht die Eisbären auch nicht in der Gefahr, wegen globaler Erwärmung auszusterben.

Seine Ansichten wurden daher von den Alarmisten als "extrem wenig hilfreich" bewertet.
en Mitchell Taylor, who has studied the animals for 30 years, was told his views 'are extremely unhelpful'.

Over the coming days a curiously revealing event will be taking place in Copenhagen.

Top of the agenda at a meeting of the Polar Bear Specialist Group (set up under the International Union for the Conservation of Nature/Species Survival Commission) will be the need to produce a suitably scary report on how polar bears are being threatened with extinction by man-made global warming.

This is one of a steady drizzle of events planned to stoke up alarm in the run-up to the UN's major conference on climate change in Copenhagen next December.

But one of the world's leading experts on polar bears has been told to stay away from this week's meeting, specifically because his views on global warming do not accord with those of the rest of the group.

Dr Mitchell Taylor has been researching the status and management of polar bears in Canada and around the Arctic Circle for 30 years, as both an academic and a government employee.

More than once since 2006 he has made headlines by insisting that polar bear numbers, far from decreasing, are much higher than they were 30 years ago. Of the 19 different bear populations, almost all are increasing or at optimum levels, only two have for local reasons modestly declined.

Dr Taylor agrees that the Arctic has been warming over the last 30 years.

But he ascribes this not to rising levels of CO2 - as is dictated by the computer models of the UN's Intergovernmental Panel on Climate Change and believed by his PBSG colleagues - but to currents bringing warm water into the Arctic from the Pacific and the effect of winds blowing in from the Bering Sea.

He has also observed, however, how the melting of Arctic ice, supposedly threatening the survival of the bears, has rocketed to the top of the warmists' agenda as their most iconic single cause.

The famous photograph of two bears standing forlornly on a melting iceberg was produced thousands of times by Al Gore, the WWF and others as an emblem of how the bears faced extinction - until last year the photographer, Amanda Byrd, revealed that the bears, just off the Alaska coast, were in no danger.

Her picture had nothing to do with global warming and was only taken because the wind-sculpted ice they were standing on made such a striking image.

Dr Taylor had obtained funding to attend this week's meeting of the PBSG, but this was voted down by its members because of his views on global warming.

The chairman, Dr Andy Derocher, a former university pupil of Dr Taylor's, frankly explained in an email (which I was not sent by Dr Taylor) that his rejection had nothing to do with his undoubted expertise on polar bears: "it was the position you've taken on global warming that brought opposition".

Dr Taylor was told that his views running "counter to human-induced climate change are extremely unhelpful".

His signing of the Manhattan Declaration - a statement by 500 scientists that the causes of climate change are not CO2 but natural, such as changes in the radiation of the sun and ocean currents - was "inconsistent with the position taken by the PBSG".

So, as the great Copenhagen bandwagon rolls on, stand by this week for reports along the lines of "scientists say polar bears are threatened with extinction by vanishing Arctic ice". But also check out Anthony Watt's Watts Up With That website for the latest news of what is actually happening in the Arctic.

The average temperature at midsummer is still below zero, the latest date that this has happened in 50 years of record-keeping.

After last year's recovery from its September 2007 low, this year's ice melt is likely to be substantially less than for some time.

The bears are doing fine.
11 Auswirkungen auf Seehunde (Robben)
12 See-Elefanten


en

Elephant seals


fr

Éléphants de mer
13 Pinguine
Der Kaiserpinguin (Aptenodytes forsteri) ist die größte Pinguinart und mit 130 Zentimetern auch einer der größten unter den Vögeln.

Als einziger brütet er auch im antarktischen Winter, in dem die Temperaturen auf minus 50 Grad Celsius sinken und die Winde bis zu 200 Kilometer pro Stunde erreichen können.

Auf dem Meereseis der Küsten bildet er große Kolonien, wo er dank seines schwarzen Kopfes recht gut zu erkennen ist.

| de | en | fr |
| --- | --- | --- |
| Auswirkungen des Klimas Teil I | Effects of Climate Change Part I | Conséquences du changement climatique, partie I |
| Antarktis | Antarctic | Antarctique |
Pity The Penguins
SS Global Warming Expedition
Stocker wird Vorträge zur Klimage­schichte und den neuesten Prognosen des Uno-Klimarats halten.
( Geld-Quelle)

We seem to be trapped in a strangley hard white and cold mud.

Real Science
2013-12-11 en Pity The Penguins

Emperor Penguins have to march an extra 35 km, due to Antarctic sea ice expansion.

Antarctic sea ice extent reached 19.47 million square kilometers (7.52 million square miles) on September 22, a record high maximum extent relative to the satellite record, and slightly above the previous record high set last year.

This year's maximum extent was 3.6% higher than the 1981 to 2010 average Antarctic maximum, representing an ice edge that is 35 kilometers (approximately 22 miles) further north on average.

Overall, Antarctic September sea ice extent is increasing at 1.1% per decade relative to the 1981 to 2010 average.
Zählung aus dem All zeigt: Viel mehr Kaiserpinguine als erwartet
Wissenschaft aktuell
2012-04-16 de Zählung aus dem All zeigt: Viel mehr Kaiserpinguine als erwartet

Extrem hochauflösende Satellitenbilder (VHR) und spezielle Schärfungstechnik lassen zwischen Tieren und anderen Flecken unterscheiden - enthüllen deutlich dichtere Pinguinbevölkerung als erwartet.

In der Antarktis leben rund doppelt so viele Kaiserpinguine wie bisher vermutet - das verrät die erste technisch optimierte Zählung aus dem All.

Statt der bisher geschätzten 270.000 bis 350.000 registrierte ein internationales Forscherteam 595.000 der großen Vögel.

Um diese auf dem Eis eindeutig von ihren Schatten und von Kothaufen zu unterscheiden, nutzte das Team besonders hochauflösende Satellitenbilder und fortgeschrittene Bildanalysetechnik.

Ein Abgleich mit Bodenzählungen zeigte eine hohe Zuverlässigkeit, heißt es im Fachblatt "PLoS ONE".

So setzten die Forscher auch eine verlässliche Zählmarke im Bestand der Kaiserpinguine.
de Aus der Panik-Küche en From the panic laboratory fr De la marmite des alarmistes
14 Fische
Understanding Evolution


en

Home


en

Welcome to Evolution 101!
What is evolution and how does it work?
Evolution 101 provides the nuts-and-bolts on the patterns and mechanisms of evolution.
15 Vögel
16 Dinosaurier
en When I was a kid, I was told that dinosaurs became extinct when the climate went cold, probably as a result of a giant meteor and/or volcanic eruptions.

Like most life forms, dinosaurs liked it warm, which it was even in the polar regions during their heyday.

But prehistory has had to be revised, now that global cooling is passé, and any ill that can't be blamed on the war in Iraq must be a result of global warming - even, for those gullible enough to believe Time Magazine - the demise of the dinosaurs.

By spewing ash into the air that blocks out the sun, volcanoes used to cause cooling.

But in keeping with politically correct ideology, this now causes warming. Remarkably, Al Gore's reengineering of reality works retroactively, so that it applies even to dinosaurs, who did not know enough to save themselves by voting for higher taxes and more government control.

Time quotes a politically astute scientist who knows where grant money comes from as claiming that volcanic activity "leads to greenhouse warming that puts a major stress on the environment" - thus dooming the dinosaurs.

Moonbattery
WE'RE ALL DOOMED! WE'RE GOING TO GO THE WAY OF THE DINOSAURS! ONLY THE GORACLE'S GOSPEL CAN SAVE US!
en Time Magazine: Global Warming Killed the Dinosaurs
17 Auswirkungen von Sonneneruptionen auf Bienen


en

Linking solar magnetic activity to Bees
en

Here is some interesting reading linking solar magnetic activity to Bees. Bees use the sun to navigate, so it is not a surprise that they'd be in tune with the sun. But there are also other issues such as immune systems and ag chemicals.
18 Auswirkungen des Klimas auf Wälder


en

Effects of Climate Change on Forests


fr

Impacts du changement climatique sur les forêts
---
Der Pakt mit dem Panda: Was uns der WWF verschweigt
Wälder können sich besser als bisher behauptet an Klimawandel anpassen


en

World's forests can adapt to climate change, study says


fr

Les forêts de la planète aiment le réchauffement climatique
de
Klimaskeptiker Info
2010-11-12 de Wälder können sich besser als bisher behauptet an Klimawandel anpassen

Es wird immer wieder behauptet, daß eine globale Erwärmung den Wäldern der Erde schaden würde.

Demnach sollen höhere Temperaturen zu einer Wasserverknappung führen, was die Pflanzen zum Tode verurteilen würde.

Eine neue Studie aber belegt das Gegenteil und entlarvt die Behauptungen als Übertreibung (also Alarmismus).
en
Guardien
2010-11-11 en World's forests can adapt to climate change, study says

Water shortages as a result of rising temperatures will not do as much damage as feared, evidence from ancient trees suggest

Contrary to expectations, he found that forests bloomed with diversity. New species of plants, including those from the passionflower and chocolate families, evolved quicker as others became extinct. The study also shows moisture levels did not decrease significantly during the warm period.

"What we found was the opposite to what we were expecting: we didn't find any extinction event [in plants] associated with the increase in temperature, we didn't find that the precipitation decreased."

"Rather than global warming, the [trouble] for tropical plants is deforestation.

The fossil record shows that, when you don't have humans around, the plants can deal with high temperatures and CO2."
fr
19 Tropische Regenwälder
Klimaskeptiker Info
2010-11-12 de Studie: Gefährdung der tropischen Regenwälder durch globale Erwärmung wurde übertrieben

Die Bedrohung tropischer Regenwälder durch den Klimawandel wurde von "Umweltschützern" womöglich übertrieben, zeigt eine neue Studie.

Forscher haben gezeigt, daß die tropischen Wälder der Erde in ferner Vergangenheit auch bei Temperaturen gediehen sind, die um 3 bis 5°C höher lagen als gegenwärtig.

Sie gehen davon aus, daß ein künftige wärmere und feuchtere Bedingungen das Pflanzenwachstum und das tierische Leben in den Tropen explodieren lassen werden.

Die Ergebnisse, die im Magazin Science veröffentlicht werden, stammen aus der Untersuchung von fossilen Pollen, die in einem Zeitabschnitt natürlicher Erwärmung vor 56,3 Millionen Jahren im Felsgestein eingelagert wurden.
Mail Online
2010-11-11 en Environmentalists 'exaggerated' threat to tropical rainforests from global warming

The threat to tropical rainforests from climate change may have been exaggerated by environmentalists, according to a new study.

Researchers have shown that the world's tropical forests thrived in the far distant past when temperatures were 3 to 5C warmer than today.

They believe that a wetter, warmer future may actually boost plants and animals living the tropics.

The findings, published in the respected journal Science, come from a study of pollen trapped in rocks during a natural period of global warming 56.3million years ago.
20 Waldbrände / Wildland fires
California: La Niña und Environmental Mismanagement
en the massive California wildfires can be attributed to a cooling Pacific, two years of La Nina and environmental mismanagement.
La Ninas and/or a cold PDO Usually Means Drier California
This natural cyclical lack of rainfall combined with unwise policy that Dr. Scott Campbell reported concerning the prohibition against clearing up accumulated brush from the areas surrounding housing developments that were instituted at the insistence of the Sierra Club and other environmental groups has left more fuel for the fires fanned by the Santa Ana winds.
In addition, environmentalists have reduced the amount of water that can be used for agriculture.
Farmers in the Central Valley are asking for a new canal to get water from the Sacramento River, as well as a relaxation of environmental restrictions resulting from a 2007 court ruling limiting the amount of water pumped south from the delta - a giant sponge that absorbs runoff from the wetter north.
The ruling was in response to a suit by environmental groups that held that the water pumping through the delta endangered several species of fish, including smelt, green sturgeon, and winter and spring salmon.
Australia: False policies on environment and climate, Global warming
en The recent fires in Australia and the loss of life and property were apparently compounded by a draconian policy that prevented people who lived in the fire threat zones from cutting trees and brush near their properties.

We witnessed something equally tragic in Lake Tahoe fire in 2007, owing to similar eco driven government stupidity forcing heavy handed policies there.

Residents couldn't get permits to cut down brush and trees, the result was a firestorm of catastrophic proportions.
Russie: Des forêts laissées à l'abandon
Canada Free Press / Dr. Tim Ball
2010-08-06 fr Des forêts laissées à l'abandon

Alors que les incendies de forêts continuent de faire rage dans le pays, la presse commence à s'interroger sur les raisons de la catastrophe.

Pour les Izvestia, c'est le démantèlement du système de surveillance et de protection des espaces forestiers qui est en cause.
21 Pflanzen bei tiefen Temperaturen
Wie Pflanzen strengem Frost trotzen
Wie sich Bäume vor extremen Temperaturen schützen
fr "Les arbres ne vivent et ne croissent pas toujours à la température de l'air ambiant."
En transpirant quand il fait chaud et en se recroquevillant quand il fait froid, les feuilles des arbres font tout pour résister aux variations de température afin de favoriser la photosynthèse.

Rude coup porté à la dendrochronologie !
22 Weizenpreise und Sonnentätigkeit


en

Wheat prices and sun spots


fr

Prix des céréales et activité solaire
de Sonnenaktivität und Weizenpreis - Schon William Herschel entdeckte den Zusammenhang
Vor über zwei Jahrhunderten bemerkte der britische königliche Astronom William Herschel einen Zusammenhang zwischen den Sonnenflecken - ein Indikator für Sonnenaktivität - und dem Weizenpreis in England. Wenn wenige Flecken beobachtet wurden, stiegen die Preise.
en Sola Activity and wheat prices - William Herschel noted a correlation
More than two centuries ago, the British Astronomer Royal William Herschel noted a correlation between sunspots - an indicator of solar activity - and the price of wheat in England. He suggested that when there were few sunspots, prices rose.
When the latter were few in number, he noted, the climate turned colder and drier, crop yields fell and wheat prices rose.
In the past two years, sunspot activity has dropped to its lowest point for a century.
One of our biggest worries is that our politicians are so fixated on the idea that CO

2

is causing global warming that most of them haven't noticed that the problem may be that the world is not warming but cooling, with all the implications that has for whether we get enough to eat.
23 Landwirtschaftliche Erträge
Watts UP With That? (Antony Watts)
2013-11-26 en World agricultural output continues to rise, despite dire predictions of decline

The year 2013 has been a great year for global agriculture.

Record world production of rice and healthy production of wheat and corn produced strong harvests across the world.

These gains were achieved despite continuing predictions that world agricultural output is headed for a decline.
Die Welt
2012-09-12 de Klimawandel könnte fantastische Ernten bescheren

Die deutschen Bauern könnten nach Ansicht von Experten die großen Profiteure des Klimawandels werden.

Die Erntemenge ließe sich um bis zu 40 Prozent steigern - dank der Temperaturen bei der Aussaat. [...]

"Tendenziell wird der Klimawandel die Erntemenge in Deutschland erhöhen", sagte der Vize-Präsident des DBV, Werner Schwarz. Vorstellbar sei langfristig ein Anstieg um 30 bis 40 Prozent.
Klimaskeptiker Info
2010-10-08 de Klimawandel wirkt sich positiv auf landwirtschaftliche Erträge aus

Wärmeres, feuchteres Wetter hilft den Landwirten in den USA dabei, höhere Erträge zu erwirtschaften.

Die Zunahme von Wärme und Feuchtigkeit läßt jetzt Mais und Soja auch in Gegenden gedeihen, die noch vor wenigen Jahrzehnten zu trocken und zu kalt dafür waren.

Auch die Entwicklung neuer, schneller wachsender Sorten trägt zu den Ertragssteigerungen bei.
USA Today
2010-10-08 en Warmer, wetter climate helping U.S. farmers grow more crops

Warmer and wetter weather in large swaths of the country have helped farmers grow corn, soybeans and other crops in some regions that only a few decades ago were too dry or cold.

Soybean production is expanding north and the cornbelt is expanding north and west because of earlier planting dates and later freezes in the fall.

The Dakotas are pretty big corn producers now and soybeans have dramatically increased in North and South Dakota.

The change is due in part to a 7% increase in average U.S. rainfall in the past 50 years.

The storm tracks are moving northward as the climate warms.

The Earth's temperature has risen about 1.3 degrees since the late 1800s, according to data from the climate center, with the warming greatest over North America, Europe and Asia. Seven of the eight warmest years on record have occurred since 2001, data from the center shows.

Even areas that are wetter on average can have long dry spells, such as large areas of the eastern USA that have been abnormally dry this summer. Especially dry this year have been northern Louisiana, Arkansas and western Mississippi.

Other areas, such as Rhode Island and Massachusetts, have been unusually wet, and it's been even soggier in parts of the Midwest and northern Plains.

In Iowa, it was second-wettest summer on record, and the state is coming off its wettest three-year period ever, dating back to 1873.

The movement of crop patterns continues a 25-year-old trend.

The warm and wet weather has been coupled with successful seed company efforts to better adapt to the changes.

Plant seed companies are making more productive, short-season varieties. It's both climate change but also technology change.

Warming temperatures have made a big difference for crops such as corn and soybeans.

It bends the boundaries of where crops can be planted. "I think we'll continue to see some shifting in crop patterns."

For example, data from the National Agricultural Statistics Service show that in 1980, about 210,000 soybean acres were planted in North Dakota. That has gradually increased to more than 3 million acres in recent years.

Rippey also said cotton production is expanding into southern Kansas. "That hasn't been done in several years," Rippey said.

Not all Midwest farmers are benefiting from the wet weather.

Jerry Main, who grows corn near Fairfield in southeast Iowa, said repeated deluges this spring prevented him from planting one-third of his 600 acres, making it one of the worst years he's seen.

"What makes it worse is it's the third wet year in a row for us in southeast Iowa and this year is the wettest of the three," Main said.

But USDA meteorologist Eric Luebenhusen said others are doing well. He noted Nebraska and Illinois were especially wet this year, and he said Iowa has "almost become the tropical rain forest of Middle America."

For the most part, Luebenhusen said, that's good for farmers. "With all the clouds and rain, you escape the extreme heat," he said.

Babcock, the Iowa State professor, said the way the rain falls will have a huge impact on agriculture in the future.

Along with the trend toward more rain is an increasing frequency of torrential rains. Since 1958 those have increased 30% in the Midwest and 65% in the Northeast.

"It all depends how that comes about," Babcock said. "In general, more rainfall means less irrigation and more ability to produce crops. Getting 4-inch rainfalls on a regular basis, that's not good for crops."
24 Kartoffeln
de

Klimawandel lässt Kartoffeln, Zuckerrüben und Soja üppig sprießen
Tomaten

Eine Verdopplung des natürlichen CO2-Gehalts der Erdatmosphäre unter Gewächshausbedingungen auf 700-900 ppm bewirkt eine deutliche Zunahme der Größe des Gemüses und zudem werden Faulprozesse gehemmt.

Auch würden sich vermehrt gesundheitsfördernde Stoffe in den Tomaten bilden.

Kartoffeln

Deutsche Bauern im Glück.

Die Bodentemperaturen sind in den vergangenen 50 Jahren um fünf Grad gestiegen.

Die deutschen Landwirte freut's - die Erträge fallen üppiger aus.

Die deutschen Landwirte dürften dank höherer Erträge unter dem Strich vom Klimawandel profitieren.

Mais, Hirse, Sonja

Auch der Mais dürfte in Deutschland zu den Gewinnerpflanzen des Klimawandels gehören.

Auch der Anbau von Hirse wird mit wärmeren Temperaturen deutlich attraktiver.

Soja, bislang zu empfindlich für hiesige Breitengrade, wird derzeit in Bayern bereits erprobt.
25 Wein


en

Wine


fr

Vin
de Aus der Panik-Küche en From the panic laboratory fr De la marmite des alarmistes
Weinbau und Klimageschichte in Britannien
Klimanews
2008-12-28 de Weinbau und Klimageschichte in Britannien

Über den Vorstoß und Rückzug der Weinbaugrenze in Großbritannien lassen sich recht genau die Klimaschwankungen der letzten 2.000 Jahre zurück verfolgen. Insgesamt an die 500 Weinberge, zurückreichend bis in die Besatzungszeit Britanniens durch die Römer, sind wissenschaftlich dokumentiert.

In Britannien wird Wein seit der römischen Zeit angebaut.
Die Römer haben die ersten Weinberge angelegt.

In der römischen Provinz Britannien gehörte der Wein bereits zum Haushalt.

Das weiß man durch Funde von römischen Trinkgefäßen und Weinamphoren.

In Northamptonshire entdeckte man eine römische Villa mit ausgedehnten Weinbergen. Weitere Weinberge entdecke man in der Umgebung.

Historische Funde und Aufzeichnungen, sowie moderne Klimarekonstruktionen deuten darauf hin, dass es zur Römerzeit in Nordeuropa im Schnitt etwas wärmer war als heute.

Dem Klima-Optimum der Römerzeit folgte das sog. Klima-Pessimum der Völkerwanderungszeit und des Frühmittelalters.

Erst im Verlaufe des Mittelalters wurde es wieder wärmer.

Die Abkühlung während der Völkerwanderungszeit und des Frühmittelalters führte dazu, dass der Weinbau auf den Britischen Inseln für Jahrhunderte zum Erliegen kam.

Die Römer haben in dieser Zeit Britannien verlassen.

Erst die Normannen haben im Hochmittelalter wieder Weinbau betrieben und zwar in etwa so weit nördlich wie zur Römerzeit.

Im Mittelalter war der Weinbau in England wieder bedeutend geworden.

Man weiß, dass es im 11. Jahrhundert 38 Weinberge gab. Im Norden reichten sie bis Yorkshire.

Aber auch diese Hochzeit neigte sich dem Ende.

Mit Einzug des Spätmittelalters folgte die sog. kleine Eiszeit mit eisigen Wintern und es blieben nur noch ein paar Weinberge in Südengland übrig.

Am Vorstoß und Rückzug der Weinbaugrenze in Großbritannien lassen sich somit recht genau die Klimaschwankungen der letzten 2.000 Jahre zurück verfolgen.

Während des sog. Klima-Optimums der Römerzeit und rund tausend Jahre später, während der mittelalterlichen Warmphase, wurden in nördlichen Breiten Weinberge angelegt.

Während der Kältephasen der Völkerwanderungszeit und des frühen Mittelalters und besonders in der frühen Neuzeit - der sog. Kleinen Eiszeit - verschwanden viele dieser Weinberge.

Heute sind sie wieder auf dem Vormarsch.

Heute wird Weinbau vor allem im Süden Britanniens betrieben.

Mit viel Idealismus, in geschützter Lage, mit neunen Rebensorten und moderner Technik wird sogar ein kleiner Weinberg in Yorkshire betrieben (Leventhorpe Vineyard).

Damit reicht die Weinanbaugrenze ähnlich weit nach Norden wie im Mittelalter, bzw. wie zur Römerzeit. Der einzige Unterschied.

Damals war alles noch Handarbeit und man hatte keine große Auswahl an Rebsorten, keine Pflanzenschutzmittel und keinen Industriedünger.
Veni, vidi, viticulture - remains of Roman vineyards found in UK
The Independent Science
1999-11-16 en Veni, vidi, viticulture - remains of Roman vineyards found in UK

To date the research has identified the remains of seven Romano-British vineyards - four in Northamptonshire, one in Cambridgeshire, one in Lincolnshire and one in Buckinghamshire.

Most of the wines produced at them were probably fruity, sweet and brownish in colour.

The grapes would have been harvested early, before they were fully ripe, in around late September.

After the treading, large amounts of honey would have been added for sweetness and to produce an alcohol content of about 10 to 12 per cent.

The wine would have continued to ferment inside storage amphorae or barrels and would have been drunk within six months.

Wine from fresh grapes - as opposed to raisins - was thus a drink for winter and spring.

One of the main wine-producing areas of Roman Britain seems to have been the Nene Valley, in what is now Northamptonshire.

In the valley, near the village of Wollaston, archaeologists have found ancient vineyards covering at least 30 acres, in which vines were grown in the Mediterranean Roman style, exactly as described by classical authors such as Pliny and Columella.

On one site, the remains of four miles of bedding trenches have been found.

Estimates suggest that the site contained 4,000 vines, producing 10,000 litres of wine a year.

In Roman times, Britain had a slightly warmer climate than now; and, with 500 to 600mm of rain a year, Northamptonshire is at the lower end of the British precipitation range, which would have meant fewer fungal problems.

The area would therefore have been suitable for grape production.
Bordeaux 2009
Yannick Serrano
2009-10-10 fr Un Bordeaux d'exception ?

Grâce aux conditions climatiques favorables, la cuvée 2009 devrait être d'une qualité inégalée depuis la fin des années 40.
Die etwas andere Klimakatastrophe: Frostiger Mai bereitet den Winzern schlaflose Nächte
de Aus der Panik-Küche en From the panic laboratory fr De la marmite des alarmistes
Best wines will come from Scotland if climate change is not stopped
Deutschland
26 Tourismus


en

Tourism


fr

Tourisme
27 Bedrohung der Menschheit


en

Is climate change the number one threat to humanity?
Der Klimawandel gehört nicht zu den größten Bedrohungen der Menschheit


en

Climate Change is not the number one threat to humanity
Die kalte Sonne (Fritz Vahrenholt & Sebastian Lüning)
2012-11-27 de Studie in Wiley Interdisciplinary Reviews: Der Klimawandel gehört nicht zu den größten Bedrohungen der Menschheit

Aus der Zusammenfassung:

Dieses Paper hinterfragt die These, dass die Bedrohung der Menschheit durch den Klimawandel andere Gefahrenarten in der näheren Zukunft (2085-2100) übertreffen würde.

Untersuchungen der Weltgesundheitsorganisation und staatlich geförderte britische Studien ergaben, dass der Einfluss des Klimawandels auf die Menschheit und die Umwelt im Vergleich zu anderen Faktoren bis 2085 nur gering ausfallen wird, und dies sogar für den Fall, dass die wärmsten IPCC-Prognosen eintreten sollten.

Insbesondere existieren derzeit mehr als 20 Gesundheitsrisiken, die eine viel wichtigere Rolle für Tod und Krankheit spielen als der Klimawandel.

Bis 2085 werden nur 13% der Todesfälle im Zusammenhang mit Hunger, Malaria und Extremwetter (darunter auch die Überflutung der Küsten durch den Meeresspiegelanstieg) auf die Klimaerwärmung zurückzuführen sein.

Zudem wird die Erwärmung für die Bevölkerung auch Vorteile bringen, wie z.B. für mehr Trinkwasser sorgen und die Situation der Ökosysteme verbessern, durch Zunahme der biologischen Produktivität und weniger Habitatwechsel.

Die Tatsache, dass die Erwärmung keine Hauptrolle für das menschliche Wohl darstellt, wird auch durch Schätzungen des Bruttosozialprodukts erhärtet. [...]

Eine wärmere Welt, die wohlhabender ist, sollte auch bessere Möglichkeiten besitzen, um Probleme zu lösen, z.B. die Klimaerwärmung.

Daher sind andere Bedrohungen, insbesondere eine eingeschränkte wirtschaftliche Entwicklung größere Gefahren für die Menschheit als die Klimaerwärmung.
Wiley Online
Indur M. Goklany
2012-10-03 de Is climate change the number one threat to humanity?

Abstract

This paper challenges claims that global warming outranks other threats facing humanity through the foreseeable future (assumed to be 2085-2100).

World Health Organization and British government-sponsored global impact studies indicate that, relative to other factors, global warming's impact on key determinants of human and environmental well-being should be small through 2085 even under the warmest Intergovernmental Panel on Climate Change (IPCC) scenario.

Specifically, over 20 other health risks currently contribute more to death and disease worldwide than global warming.

Through 2085, only 13% of mortality from hunger, malaria, and extreme weather events (including coastal flooding from sea level rise) should be from warming.

Moreover, warming should reduce future global population at risk of water stress, and pressures on ecosystems and biodiversity (by increasing net biome productivity and decreasing habitat conversion).

That warming is not fundamental to human well-being is reinforced by lower bound estimates of net gross domestic product (GDP) per capita.

This measure adjusts GDP downward to account for damages from warming due to market, health, and environmental impacts, and risk of catastrophe.

For both developing and industrialized countries, net GDP per capita-albeit an imperfect surrogate for human well-being-should be
(1) double the current US level by 2100 under the warmest scenario, and
(2) lowest under the poorest IPCC scenario but highest under the warmest scenario through 2200.

The warmest world, being wealthier, should also have greater capacity to address any problem, including warming.

Therefore, other problems and, specifically, lowered economic development are greater threats to humanity than global warming.
de Aus der Panik-Küche en From the panic laboratory fr De la marmite des alarmistes
Epoch Times Deutschland
2006-01-28 de Clinton nennt Klimawandel größte Bedrohung der Menschheit

Der ehemalige U.S. President Bill Clinton beim World Economic Forum in Davos, Schweiz.

Davos - Der frühere US-Präsident Bill Clinton hat den Klimawandel als die größte Bedrohung der Menschheit bezeichnet.

Der Klimawandel habe wie keine andere Bedrohung die Macht, die Zivilisation in ihrer derzeitigen Form zu beenden, warnte Clinton.

Alle Bemühungen der Menschheit um ihre weitere Entwicklung wären damit zum Scheitern verurteilt.

Deshalb müsse die Weltgemeinschaft umweltfreundlichere Energien verwenden, um sowohl die Erderwärmung als auch das etwaige Einsetzen einer neuen Eiszeit zu verhindern.
28 Kulturen


en

Civilisations


fr

Civilisations
Kulturen / Civilisations / Civilisations
29 Auswirkungen auf Afrika


en

Impacts on Africa


fr

Impacts en Afrique
Sahara und Sahelzone / Sahara and Sahel / Sahara et Sahel africain
Politik / Politics / Politiques
Sahara und Sahelzone


en

Sahara and Sahel


fr

Sahara et Sahel africain
2007-11-07

de

Mit offenen Karten - Sahara eine Wüste
Mit 8,5 Millionen km2 ist die Sahara die größte Wüste der Erde.
Aber sie ist weder leer noch eine unüberwindliche Grenze zwischen Mittelmeer und Schwarzafrika.
Seit etwa zehn Jahren zieht sie mehr und mehr den Handel und die Menschen an und dient als Durchgangsgebiet für afrikanische Migranten auf ihrem Weg nach Europa.
Die Wüste lebt - Der Sahel wird grün


en

The Living Desert - The Sahel is greening


fr

Le Désert vivant - Le Sahel devient vert
EIKE Europäisches Institut für Klima und Energie
2011-09-23 de Die Wüste lebt !

Basierend auf Aussagen des Weltklimarates sowie dem IPCC nahe stehender Institute gehen immer wieder Meldungen durch die Medien daß die Wüsten sich infolge der "Klima-Katastrophe" rasch ausbreiten:

"Die Erderwärmung schreitet voran, die Wüsten werden wachsen und die Menschen vor dieser lebensfeindlichen Umwelt fliehen."

Das ganze Gegenteil macht die Natur

Die Sahara nämlich wird feuchter und damit grüner werden als sie heute ist.
Norden der Sahara und die angrenzenden Steppen
Das Resultat ist eine Ausweitung der Grünfläche zu Lasten der Wüste Sahara.

Diese schrumpfte in den letzten 20 Jahren um ca. 300.000 km2 , d.h. ein Gebiet fast so groß wie Deutschland (357.000 km2).
Noch sehr viel weitgehender ist das Ergrünen im Süden der Sahara, in der SAHEL-Zone.
The increase in rainfall, which was probably caused by rising temperatures, and rising CO2 concentrations might even - if sustained for a few more decades - green the Sahara.
Der Irrtum der Klima-Modelle
---
CO2: Vegetation - Erträge - Leben
Die Vegetation hat auch in Regionen zugenommen, wo die Niederschlags-Menge nicht gestiegen ist.

Es muß darum noch einen anderen Grund geben :

Möglicherweise ist es die steigende CO2-Konzentration in der Atmosphäre.
---
Hunger am Horn von Afrika - warum?
Versorgung von Mensch und Tier haben in den letzten 50 Jahren dazu beigetragen, daß in der Halbwüste zu viele Menschen und vor allem zu viele Rinder, Dromedare und Ziegen leben.

Die Folgen sind massive Überweidung.
Korruption und Terror
AGRO-Sprit vom Horn von Afrika für Europas Autos
Das Ausmaß des Landraubs in Afrika für den Anbau von Agrosprit wird unterschätzt und unterliegt keinerlei Kontrollen ...

Auch deutsche Firmen sind an der Landnahme beteiligt.

So hat die in München ansässige Firma Acazis AG in Äthiopien 56.000 Hektar gepachtet und hält Konzessionen für weitere 200.000 Hektar Land überwiegend zur Biokraftstoff-Produktion.

Der Energieminister Kenias hat beschlossen die Biodieselproduktion des westafrikanischen Landes in den nächsten Jahren stark zu erhöhen.

In einer küstennahen Region will das Unternehmen im Einvernehmen mit dem Malindi County Council 50.000 Hektar Wald- und Buschland in der Region Dakatcha in Jatropha-Äcker umwandeln.

Anbau von Agrofuels verschärft bereits heute die Konkurrenz um die Ressource Land.

Anbau von Agrofuels trägt direkt zum Anstieg der Lebensmittelpreise bei.
F a z i t :
Insbesondere wir Europäer sollten endlich aufhören, solcherart Neokolonialismus zu betreiben, mit dem Vorwand der "Klimarettung" durch Biokraftstoffe.

Weitergehend:
Die insbesondere EU-geprägte Irrlehre, der angeblich anthropogene Klimawandel sei Ursache für die Probleme dieser Welt, sollte endlich entsorgt werden.
Der Sahel wird grün


en

The Sahel is greening
Weltwoche 35/11 - Philipp Müller
2011-09-01 de Der Sahel wird grün*
* (Ganzer Inhalt nur registrierten Abonnenten der Weltwoche zugänglich)

Trockenheit, Hungersnöte, Elend: Die Zone südlich der Sahara gilt als hoffnungslose Gegend Afrikas.

Doch im Sahel ist die Wüste auf dem Rückzug.

Die Niederschläge nehmen zu. Mögliche Ursache ist die Klimaerwärmung.

CO2 fördert das Wachstum

Der wichtigste Grund für die Ergrünung des Sahel ist, dass die Niederschläge seit Mitte der 1980er Jahre zugenommen haben.

Die meisten der vierzig Wetterstationen in der Sahelzone registrierten mehr Regen, was zu mehr Pflanzenwachstum führte.

Durch Verdunstung übertragen Pflanzen Feuchtigkeit aus dem Boden in die Luft.

Sie halten auch Wasser im Boden nahe der Oberfläche, wo es verdunsten kann.

Wenn der Begrünungsprozess einmal begonnen hat, beeinflusst die zunehmende Vegetation so das Klima selber, was zu noch mehr Regen führt.

Allerdings kann die Ergrünung durch mehr Niederschlag allein nicht erklärt werden.

Die Vegetation hat auch in Regionen zugenommen, wo die Niederschlagsmenge nicht gestiegen ist.

Für die Regenerierung der Vegetation in diesen Gebieten muss es darum noch einen anderen Grund geben.

Möglicherweise ist es die steigende CO2-Konzentration in der Atmosphäre wegen der Verbrennung von Öl, Kohle und Gas durch den Menschen.

Denn je höher die CO2-Konzentration in der Luft ist, umso besser wachsen die Pflanzen.

Positive Entwicklung

Die Wissenschaftler sind sich nicht einig, warum die Regenfälle in der Sahelzone zugenommen haben.

Reindert Haarsma und seine Kollegen vom Königlich-Niederländischen Meteorologischen Institut vermuten, dass der Regen wegen einer Erwärmung der Sahara zugenommen hat.

Die Sahara erwärme sich schneller als der Atlantische Ozean, was zu einem tieferen Luftdruck über der Wüste führe.

Darum ströme Luft mit viel Feuchtigkeit vom Atlantik über die Sahelzone, wo sich die Wolken entladen.

Die Ergrünung der Sahelzone ist keineswegs einzigartig

Während des sogenannten Holozän-Klimaoptimums (9000 bis 4000 v. Chr.), als es möglicherweise zwei bis fünf Grad Celsius wärmer war als heute, erhielt die nördliche Hälfte Afrikas häufigere und stabilere Regenfälle.

Die Sahara und die Sahelzone waren eine einzige grüne Savanne.

Felsmalereien im Südosten Algeriens aus dieser Zeit zeigen Elefanten und Rinder.

Knochen von Krokodilen und Flusspferden, die in der Sahara gefunden wurden, sowie Sedimente belegen, dass es dort bis vor 6000 Jahren grosse Flüsse und Seen gab.

Wie Klimarekonstruktionen zeigen, gab es noch drei andere Perioden in den letzten 120?000 Jahren, in denen die Sahara fast vollständig mit Gras, Seen und Flüssen bedeckt war.

Das deutet darauf hin, dass die gegenwärtige globale Erwärmung nicht einzigartig ist.

Die deutliche Zunahme der Vegetation und der Regenfälle südlich der Sahara ist eine sehr positive Entwicklung für die Menschen in der Sahelzone.

Falls die Regenfälle weiter zunehmen, könnte sich vielleicht die ganze Sahara wieder in eine Savanne verwandeln.
Quellen / Sources:
ZDF
2007-06-13 de Klimaarchiv der Sahara

Der Klimawandel, den wir heute erleben, ist mit erschreckenden Folgen und unbequemen Wahrheiten verbunden.

Die Klimamodelle der Meteorologen müssen die Wechselwirkungen zwischen Atmosphäre, Ozean, Landoberfläche und Eismassen in ihre Prognosen einbeziehen.

Die Ergebnisse zeigen, dass sich die globale Erderwärmung regional sehr unterschiedlich auswirken wird.
NASA
2003-06-05 en GLOBAL GARDEN GROWS GREENER

A NASA-Department of Energy jointly funded study concludes the Earth has been greening over the past 20 years.

As climate changed, plants found it easier to grow.

The article states climate changes have provided extra doses of water, heat and sunlight in areas where one or more of those ingredients may have been lacking.

Plants flourished in places where climatic conditions previously limited growth.
Projekte
2009: Westafrika ertrinkt im Regen
Die Presse
2009-09-03 en Westafrika ertrinkt im Regen: 200.000 obdachlos

Eine ungewöhnlich heftige Regenzeit sucht vor allem Burkina Faso heim.

Hier gab es zuletzt laut Meteorologen die heftigsten Regenfälle seit 90 Jahren, mehr als 150.000 Menschen verloren ihre Wohnungen.

Schwere Regenfälle sind in den Staaten Westafrikas südlich der Sahara - etwa Nigeria, Guinea und Burkina Faso - eigentlich nicht ungewöhnlich.

Immerhin herrscht derzeit dort auch die Regenzeit, und so ein richtiger afrikanischer Starkregen stürzt im Allgemeinen wie ein Wasserfall aus dem Himmel herab.

Was sich aber derzeit in der Region zwischen Senegal und der Zentralafrikanischen Republik abspielt, ist selbst für die Einheimischen überraschend: In 16 Staaten wurden in den vergangenen Tagen mindestens 200.000 Menschen obdachlos, nachdem Überflutungen durch ungewöhnlich heftigen Regen ihre Häuser überschwemmt hatten. Mindestens 40 Menschen sind bisher umgekommen.

In den vergangenen Jahren kam es immer wieder zu größeren Erdrutschen und Überschwemmungen in Westafrika. 2007 waren deswegen mehr als 700.000 Menschen zeitweise obdachlos.
2007: Wüsten werden zu Schlamm
Readers Edition
2007-09-26 en Afrika erlebt den Klimawandel

Wüsten werden zu Schlamm.

Die Überschwemmungen reichen von Kenia im Osten bis nach Senegal im Westen.
18 Länder sind gleichzeitig betroffen.
1,5 Millionen Menschen sind obdachlos, hunderte sind bereits ertrunken.
Politik / Politics / Politiques
Entschädigung für bevorstehende Schäden in Afrika


en

Requests for future damages in Africa


fr

Revendications pour futures dégâts en Afrique
de Afrika fordert 67 Milliarden Dollar jährlich - als Entschädigung für den "Klimawandel"
Klimaskeptiker Info schreibt dazu:
Zehn afrikanische Staaten bereiten einen Resolutionsentwurf für die anstehende Klimakonferenz in Kopenhagen vor, in dem sie jährliche "Entschädigungen" für die nach Einschätzung von Experten bevorstehenden Schäden durch den "Klimawandel" von den Industrienationen fordern.

Diese Forderung ist in mehrfacher Hinsicht bemerkenswert:

Es geht nicht um tatsächliche Schäden, sondern um Schäden, die nach Einschätzung von Experten zukünftig eintreten werden.

Eine Entschädigung für einen Schaden, der noch gar nicht existiert, ist absurd.

Tatsächlich gibt es keinen Trend zu mehr wetterbezogene Naturkatastrophen, weder in Afrika noch sonstwo.

Versuche der Alarmisten um Michael Mann, solche Zunahmen zu belegen, sind erst kürzlich als statistische Manipulation und Fehlinterpretation der Daten entlarvt worden.

Die Forderung der Afrikaner entbehrt daher jeder belegbaren wissenschaftlichen Grundlage.

Tatsächlich haben sich die Wüstenflächen gerade in Afrika verringert.

Die "Einschätzung von Experten" hat, soweit damit alarmistische Prognosen verbunden waren, in der Vergangenheit schon so oft versagt

(Beispiele: Keine Erwärmung bis 2020, Greenpeace behauptet fälschlich das baldige Verschwinden des arktischen Eises, das UK Met Office prognostiziert dreimal einen warmen Sommer - und lag dreimal daneben),

daß die Einschätzung irgendwelcher Experten wohl kaum eine hinreichende Grundlage für Finanzströme der angestrebten Größe sein dürften.

Diese Aspekte sind unabhängig davon, daß ein anthropogener Einfluß auf die globale Temperaturentwicklung mehr als zweifelhaft ist.

Selbst wenn CO2 einen Einfluß auf die Temperaturen haben sollte, hat es Afrika bisher nicht geschadet, und es gibt keinen Hinweis darauf (außer in den dauernd falschen Computermodellen der Alarmisten), daß eine Erwärmung Afrika schaden wird.

Die Forderung der Afrikaner ist ein relativ geschickter Versuch, das von den Alarmisten vorbereitete Feld zu bestellen und das den westlichen Nationen eingeredete schlechte Gewissen auszunutzen.

Einen Nutzen für Afrika, die Welt oder das Klima hätten die geforderten Zahlungen vermutlich nicht.

China und Indien, die sich am Emissionszertifikathandel nicht beteiligen, profitieren bereits jetzt vom Klima-Gewissen der westlichen Nationen:

Durch den Handel mit mit CO2-Zertifikaten kommt es zu einer Verteuerung der Produktion in den westlichen Ländern (besonders Europa), wodurch die Verlagerung von Produktion und Arbeitsplätzen nach Indien und China weiter begünstigt wird.

Und dort wird weniger effizient, sprich mit größeren CO2-Emissionen produziert - "Klimaschutz" absurd!

Afrika mischt kräftig mit beim Panikorchester, das Michael Miersch vorhergesagt hat.

Jetzt möchten also auch die Afrikaner von der Dummheit der Industrienationen profitieren. Das ist zwar verständlich, aber nicht akzeptabel.
Weitere Links:
en African leaders will ask rich nations for $67 billion per year to mitigate the impact of global warming on the world's poorest continent
Reuters
2009-08-24 de Africa wants $67 bln a year in global warming funds

ADDIS ABABA, Aug 24 (Reuters) - African leaders will ask rich nations for $67 billion per year to mitigate the impact of global warming on the world's poorest continent, according to a draft resolution seen by Reuters on Monday.

Ten leaders are holding talks at African Union (AU) headquarters in the Ethiopian capital to try to agree a common stance ahead of a U.N. summit on climate change in Copenhagen in December.

Experts say Africa contributes little to the pollution blamed for warming, but is likely to be hit hardest by the droughts, floods, heatwaves and rising sea levels forecast if climate change is not checked.

The draft resolution, which must still be approved by the 10 leaders, called for rich countries to pay $67 billion annually to counter the impact of global warming in Africa.

It said there had been serious limitations on Africa's ability to negotiate in the past because of a lack of a coherent stance on global warming by African governments.

"The negotiating team need to be backed with the political weight at the highest level in the continent to ensure that the African voice on climate change negotiations is taken with the seriousness it deserves", the document said.
fr L'Afrique veut 67 milliards de dollars d'aide pour le climat
Boursier Com
2009-08-24 fr L'Afrique veut 67 milliards de dollars d'aide pour le climat

ADDIS-ABEBA (Reuters) - L'Afrique va demander 67 milliards de dollars d'aide annuelle aux pays industrialisés pour faire face aux conséquences du réchauffement climatique, selon un projet de résolution en discussion au siège de l'Union africaine (UA) dont Reuters a pris connaissance lundi.

Dix chefs d'Etat africains réunis à Addis-Abeba cherchent à forger une position commune en vue du sommet de décembre sur les changements climatiques, à Copenhague.

L'Afrique ne joue qu'un rôle mineur dans le réchauffement de la planète mais pourrait bien être le continent le plus touché par la sécheresse, les inondations et autres catastrophes engendrées par l'évolution du climat.

Le texte en discussion au siège de l'UA doit encore être formellement approuvé par les dix chefs d'Etat.
S'il est adopté en l'état, l'Afrique réclamera donc une aide annuelle de 67 milliards de dollars à compter de 2020, a-t-on précisé de sources proches de l'organisation.

Les auteurs du projet de résolution regrettent en outre l'absence de cohésion qui a jusqu'ici limité la marge de manoeuvre de l'Afrique dans les tractations internationales.

"Les négociateurs doivent bénéficier d'un appui politique au plus haut niveau du Continent pour faire en sorte que la voix africaine dans les négociations sur le changement climatique soit considérée avec le sérieux qu'elle mérite", écrivent-ils.
Aktuelle Studie der University of Colorado bringt Klarheit: Keine Klimakriege in Ostafrika


en

Climate not a significant factor in East African conflicts
Quelle / Source:
30 Amazonien
Amazon Greener in Dry Season than Wet
31 Aralsee
Die kalte Sonne (Fritz Vahrenholt, Sebastian Lüning)
2012-04-03 de Starke Sonne drängt den Staub am Aralsee zurück: Feuchtere Zeiten während Wärmeperioden

Aus dem Seeboden des Aralsees gewannen die Forscher einen 11m langen Sedimentkern, der die vergangenen 2000 Jahre abdeckt.

Mithilfe von Korngrößenuntersuchungen konnten sie Veränderungen der Staubmengen rekonstruieren, was wiederum Rückschlüsse auf Wind- und Trockenheitsphasen zulässt.

Die Studie zeigt zweierlei Dinge:

Zum einen passt die Klimaentwicklung der letzten Jahrzehnte am Aralsee sehr gut in das natürliche Muster der vergangenen 2000 Jahre.

Die industrielle Phase seit 1850 stellt keineswegs eine noch nie dagewesene klimatische Sondersituation dar, wie einige IPCC-Wissenschaftler gebetsmühlenartig der Presse gegenüber wiederholen.

Zum anderen zeigt die Studie, dass das Klimageschehen am Aralsee der solargetriebenen Millenniumszyklik gehorcht.

Offensichtlich sind auch die Schwankungen der Staubablagerungen am Aralsee eng an die Entwicklung der Sonnenaktivität gekoppelt.

Keines der IPCC-Klimamodelle kann diesen Zusammenhang reproduzieren - dies scheint jedoch den Weltklimarat nicht davon abzuhalten, die Modelle trotzdem weiterzuverwenden.

Wann ist mit ersten Konsequenzen zu rechnen?
de Aus der Panik-Küche en From the panic laboratory fr De la marmite des alarmistes
32 Klimaflüchtlinge


en

Climate Refugee


fr

Réfugié climatique
2005: 50 million refugees by 2010
2011: The UN "disappears" 50 million climate refugees
Offizielle UN Karte 2005 der besonders bedrohten Regionen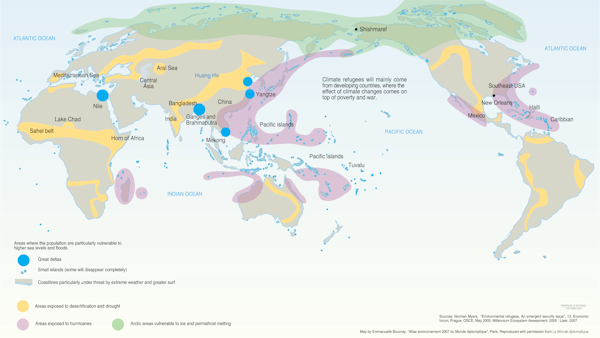 Quellen / Sources:
Gavin Atkin
2011-04-11 en What happened to the climate refugees?

In 2005, the United Nations Environment Programme predicted that climate change would create 50 million climate refugees by 2010.

These people, it was said, would flee a range of disasters including sea level rise, increases in the numbers and severity of hurricanes, and disruption to food production.
2011: 50 million refugees by 2020
de Aus der Panik-Küche en From the panic laboratory fr De la marmite des alarmistes
care2
2011-02-23 en Coming in 2020: 50 Million Environmental Refugees

"In 2020, the UN has projected that we will have 50 million environmental refugees,"declared of California, Los Angeles professor Cristina Tirado at the annual meeting of the American Association for the Advancement of Science (AAAS). "When people are not living in sustainable conditions, they migrate," she continued.

Comment by Philip W. on Apr 16, 2011

Please people, don't buy into this, I beg you, or at least look from another angle :-) In 2005, the UN claimed 50 million refugees by 2010...it never happened! "Natural Disasters" happen all the time, however, increasing media coverage makes them seem more frequent.

Now its supposed to be 2020 for 50 million refugees...

Global warming? No. We have actually been cooling slightly since 2002 through RSS/UAH datsets, which due to complete scanning of the globe, cover much more of it!

This is a Major Issue, how many years does the Earth have to cool before we realize its not warming?
Videos
33 Panik-Szenarien von Global Warming


en

Panic with Global Warming


fr

Panique avec le réchauffement climatique
Panik-Szenarien aus der Sicht von Wikipedia


en

Panic seen by Wikipedia


fr

Panique vu par Wikipedia
Liste der Auswirkungen der "Globalen Erwärmung"


en

List of consequences of "Global Warming"


fr

Liste des conséquences du "réchauffement climatique"
A: Acne, Agricultural land increase, Afghan poppies destroyed, Africa devastated Africa in conflict, African aid threatened, African summer frost, Aggressive weeds, Air pressure changes, Alaska reshaped, Agulhas current moves, Alps melting, Amazon a desert, American dream end, Amphibians breeding earlier (or not), Anaphylactic reactions to bee stings, Ancient forests dramatically changed, Animals head for the hills, Antarctic grass flourishes, Antarctic ice grows, Antarctic ice shrinks, Antarctic sea life at risk, Aanxiety treatment, Algal blooms, Aarchaeological sites threatened, Arctic bogs melt, Arctic in bloom, Arctic ice free, Arctic ice melt faster, Arctic lakes disappear, Arctic tundra to burn, Arctic warming (not), Atlantic less salty, Atlantic more salty, Atmospheric circulation modified (pdf), Attack of the killer jellyfish, Avalanches reduced, Avalanches increased
B: ...
death:
billions of deaths camel deaths, cancer deaths in England, death rate increase (US), hyperthermia deaths, illness and death, slow death, cremation to end,
extinctions:
human, civilisation, logic, Inuit, smallest butterfly, cod, ladybirds, pikas, polar bears, walrus, toads, plants, salmon, trout, wild flowers, woodlice, a million species, half of all animal and plant species, mountain species, not polar bears, barrier reef, leaches, tropical insects
flood:
flood patterns change, floods, floods of beaches and cities, flood of migrants, flood preparation for crisis, Florida economic decline, Bahrain under water, Venice flooded
health:
American dream end, cancer deaths in England, computer models, danger to kid's health, Dengue hemorrhagic fever, depression, desert advance, health affected, health of children harmed, heart attacks and strokes (Australia), human health risk, lives saved, Melanoma, cataracts, human health improvement, Cholera, five million illnesses Malaria
millions, billions, trillions:
a million species, five million illnesses, homeless 50 million, billion dollar research projects, billion homeless, billions face risk, billions of deaths, wars threaten billions, damages equivalent to $200 billion, cost of trillions
wine:
wine - harm to Australian industry, wine industry damage (California), wine industry disaster (US), wine - more English, wine - England too hot, wine - German boon, wine - no more French wine passé (Napa), wine stronger
Global Warming - Your One-Stop Climate Panic Resource
↑