1.4.10 Auswirkungen des Klimas Teil II


en

Effects of Climate Change Part I


fr

Conséquences du changement climatique, partie I
⇐ de Teil I en Part I fr Partie I
⇒ de Teil III en Part III fr Partie III
1 Gletscher


en

Glaciers


fr

Glaciers
Gletscherschwund vor Kohlenwasserstoff-Anstieg


en

Glacier shortening before Hydrocarbon use increase


fr

Font des glaciers avant l'augmentation des hydrocarbures
de Gletscherschwund vor Kohlenwasserstoff-Anstieg:
Kein Einfluss von CO2 und der fossilen Energien!

en Glacier shortening before Hydrocarbon use increase:
No influence of CO2 and fossile energy!
(Hydrocarbon use could not have caused this shortening trend.)

fr Font des glaciers avant l'augmentation des hydrocarbures:
Pas d'influence du CO2 et des energies fossiles!
Weltwoche 09/10 / Hans Rentsch
2010-02-22 de Verzerrte Bilder

In der Sendung «Club» des Schweizer Fernsehens am 16. Februar (s.o.) schilderte Nationalrätin Franziska Teuscher ihr Walliser Ferienerlebnis:

Der Anblick des geschrumpften Aletschgletschers habe ihr bestätigt, dass es höchste Zeit sei, gegen den Klimawandel wirksame Massnahmen zu ergreifen.

Neben der Politikerin sass ETH-Professor Andreas Fischlin, leitender Autor der Klimaberichte des Uno-Weltklimarats IPCC.

Mit der Autorität des Friedensnobelpreisträgers (als der er sich im «Club» ankündigen liess) hätte Fischlin dem Fernsehpublikum erklären können, was die grüne Nationalrätin natürlich längst weiss:

Wie andere Alpengletscher schrumpft der Aletschgletscher schon seit Mitte des 19. Jahrhunderts und nicht erst seit Ende der 1970er Jahre, als die Erwärmungsphase begann, auf die sich die Treibhausgas-Hypothese stützt.

Gegen 1850 endete die 400 Jahre lange Kleine Eiszeit, eine Periode weltweit relativ kühler Temperaturen.

Fischlin aber liess KlimaAlarmistin Teuscher unbehelligt - ganz im Einklang mit der IPCC-Linie.

Führende IPCC-Leute haben verschiedentlich öffentlich erklärt, man könne die Leute und die Politiker nur mit schockierenden Aussagen davon überzeugen, dass möglichst rasch gegen den Klimawandel vorzugehen sei.
Oregon Institute of Science and Medicine / Petition Project
en Figure 2: Average length of 169 glaciers from 1700 to 2000

The principal source of melt energy is solar radiation.


Variations in glacier mass and length are primarily due to temperature and precipitation.

This melting trend lags the temperature increase by about 20 years, so it predates the 6-fold increase in hydrocarbon use even more than shown in the figure.

Hydrocarbon use could not have caused this shortening trend.
Aletsch-Gletscher im Verlaufe der letzten ca. 3'500 Jahre
Die folgende Abbildung zeigt Vorstöße und Rückzüge des Aletsch-Gletscher im Verlaufe der letzten ca. 3.500 Jahre. (Größter Alpengletscher, in der Schweiz gelegen)

Seine maximale Größe hatte der Gletscher um 1860 erreicht.
Klimawandel und die Gletscher in den österreichischen Alpen als Zeitzeugen!
EIKE Europäisches Institut fü Klima und Energie
2010-01-07 de Klimawandel und die Gletscher in den österreichischen Alpen als Zeitzeugen!
Vertreter der Hypothese der menschengemachten (anthropogenen) globalen Erwärmung des Erdklimas führen das Schmelzen der Gletscher gerne als Beweis für die Richtigkeit ihrer Aussagen an.
Tatsächlich befinden sich zum Beispiel die Gletscher in den österreichischen Alpen seit Jahrzehnten auf dem Rückzug.

Die letzte allgemeine Vorstoßperiode der Alpengletscher ging um 1855 AD zu Ende.

Seither haben die österreichischen Gletscher mehr als die Hälfte ihrer Fläche und geschätzte 60 % ihres Volumens verloren.

Dieser Gletscherschwund ist allerdings nicht kontinuierlich vor sich gegangen. Vielmehr wurde er von Vorstoßperioden unterbrochen.

Zwischen 1890 und 1927 sowie zwischen 1965 und 1980 sind jeweils bis etwa 75 % der Gletscher angewachsen.

Bemerkenswert ist die Vorstoßperiode der 1970er Jahre als Folge einer Abnahme der Sommertemperatur um etwa 1° C zwischen 1950 und 1980.
In dieser Zeit ist der CO2-Gehalt der Luft unbeeindruckt fortgesetzt stark angestiegen.

Gletscherschwundperioden dieser Art gab es in der Vergangenheit mehrfach und auch in deutlich stärkerem Ausmaß.

Die Rekonstruktion der Gletscherentwicklung erlaubt die Aussage, dass in rund 65 % der letzten 10.000 Jahre die Gletscher kleiner waren und die Sommertemperaturen daher so hoch oder höher lagen als heute.

Kann diesmal von einem besonders schnellen Rückzug der Gletscher gesprochen werden? - Nein! Die Geschwindigkeit des derzeitigen Gletscherrückgangs hält sich in den Grenzen, die auch für die weiter zurückliegende Vergangenheit rekonstruierbar ist.

Die schmelzenden Gletscher geben Reste von Bäumen frei, die früher in Höhenlagen deutlich oberhalb der heutigen Grenze für das Baumwachstum gewachsen sind.

Sollten heute auf Höhe der nacheiszeitlichen Wald-und Baumgrenze wieder Bäume wachsen können, müsste die Temperatur in der Vegetationsperiode längerfristig um geschätzte 0,7 bis 1° C ansteigen.

Holzfunde von in großer Höhe gewachsenen Bäumen in den Gletschervorfeldern wurden für die Zeit von 8000 vor Christus bis 300 nach Christus in großer Zahl geborgen.

Diese Wachstumsperioden sind allerdings mehrfach von Gletschervorstoßperioden unterbrochen worden.

Aus Baumwachstum und Gletscherverhalten lassen sich mit zunehmender Informationsdichte die klimatischen Verhältnisse der letzten 10.000 Jahre rekonstruieren.

Aus diesen Befunden und der daraus abgeleiteten, längerfristigen Klimaentwicklung wird klar ersichtlich, dass das derzeitige Temperaturniveau deutlich innerhalb der natürlichen, von Menschen nicht beeinflussten Schwankungsbereichs liegt.

In der älteren Nacheiszeit gab es nach derzeitigem Kenntnisstand mehrere Perioden mit höheren Temperaturen als heute, die - nicht unterbrochen - bis zu 1.000 Jahre angehalten haben.

In den letzten 3.500 Jahren waren die Kaltzeiten dominant.

Welchen Zusammenhang gibt es zwischen dem Abschmelzen der Gletscher und der Entwicklung der CO2-Konzentration in der Erdatmosphäre?

Gernot Patzelt: Der CO2-Anstieg geht erst in den letzten 30 Jahren mit dem Temperaturanstieg und dem Gletscherschwund parallel.

Wie erwähnt, war davor 30 Jahre lang das Gegenteil der Fall.

Ein eindeutiger Zusammenhang zwischen CO2-Anstieg und Gletscherverhalten ist nicht erkennbar.

Der gegenwärtige Rückgang der Alpengletscher ist als Bestätigung für die Hypothese eines anthropogen verursachten Klimawandels nicht geeignet.

Das Profil N-GRIP* (North Greenland Ice core Project) zeigt, dass in etwa 75 % der letzten 10.000 Jahre die Temperaturen so warm oder wärmer waren als das Mittel der letzten 50 Jahre.

Und auch in Grönland liegt das Temperaturmittel der letzten Jahrzehnte deutlich innerhalb des langfristigen Schwankungsbereichs.

Damit erscheint das Ergebnis aus den Alpen gut bestätigt.

Die gegenwärtige Gletscher-und Klimaentwicklung zeigt keine Verhältnisse, die es in der Vergangenheit ohne menschlichen Einfluss nicht schon mehrfach und lange andauernd gegeben hat.
AlpenGate


en

Alp Glaciers Gate


fr

Gate des glaciers des alpes
Gletscher wachsen


en

Glaciers are growing


fr

Des glaciers grandissent
Die Weltwoche 09/10 / Von Hans Rentsch
2010-03-03

de

Verzerrte Bilder
Schmelzende Gletscher rühren die Gemüter. Die Klima-Alarmisten bewirtschaften die Ängste und verdrängen wesentliche Fakten. Skepsis gegenüber der offiziellen Klimaforschung wird zur Bürgerpflicht.
1. Himalayan glaciers are growing, not shrinking
Things are not as they seemed to be in the IPCC report.

Not only are the Himalayan glaciers not shrinking, they're growing.
http://letmegooglethatforyou.com/?q=himalaya+glacier+growing
de Aus der Panik-Küche en From the panic laboratory fr De la marmite des alarmistes
THE TIMES OF INDIA
2009-11-01

en

Beijing gets first snow after meteorologists seed cloudss
BEIJING: Beijingers woke up Sunday morning to a city turned white with snow that came far ahead of the winter.
It was only in the later part of the day that one learnt that 186 doses of silver iodide went into persuading the clouds to release snow flakes.
2. Alaska's Hubbard Glacier. Growing. A lot.
| | |
| --- | --- |
| | Alaska's Hubbard Glacier is advancing moving toward Gilbert Point near Yakutat at an average of seven feet per day. |
Glacier Research
2009-05-05

en

Recent Updates
The terminus of Hubbard glacier was significantly advanced this year in comparison to the last three years of measurement and to date continues to show continued activity but slightly back from it's seasonal maximum.
3. Norwegian glaciers. Growing again.
| | |
| --- | --- |
| | After years of decline, glaciers in Norway are again growing. |
Not by Fire but by Ice
2008-11-27

en

Glaciers in Norway Growing Again
The actual magnitude of the growth, which appears to have begun over the last two years, has not yet been quantified.
The flow rate of many glaciers has also declined. Glacier flow ultimately acts to reduce accumulation, as the ice moves to lower, warmer elevations.
DailyTech
2008-11-27 en Glaciers in Norway Growing Again

After years of decline, glaciers in Norway are again growing, reports the Norwegian Water Resources and Energy Directorate (NVE).

The flow rate of many glaciers has also declined. Glacier flow ultimately acts to reduce accumulation, as the ice moves to lower, warmer elevations.

The original trend had been fairly rapid decline since the year 2000.

Despite the recent growth, most glaciers in the nation are still smaller than they were in 1982. However, Elvehøy says that the glaciers were even smaller during the 'Medieval Warm Period' of the Viking Era, prior to around the year 1350.

Not all Norwegian glaciers appear to be affected, most notably those in the Jotenheimen region of Southern Norway.
4. Glaciers growing on Canada's tallest mountain
| | |
| --- | --- |
| | Canada's tallest mountain, the Yukon's towering Mount Logan, may have experienced a growth spurt. |
canada.com
2008-11-17

en

Canada's highest peak growing, researcher finds
Canada's highest point -- the ice-covered peak of Yukon's soaring Mount Logan -- may be due for an official re-measurement after an American researcher on a neighbourly flyby took readings that suggest this country's superlative summit has experienced a growth spurt.
5. North to Alaska and more growing glaciers
Alaska's glaciers have been in retreat for nearly 200 years.
But now they're advancing again.
MichNews.com
2008-10-28 en Alaska's Glaciers Are Growing

Alaska's glaciers grew this year, after shrinking for most of the last 200 years.
The reason? Global temperatures dropped over the past 18 months.

The global mean annual temperature has been declining recently because the solar wind thrown out by the sun has retreated to its smallest extent in at least 50 years. This temperature downturn was not predicted by the global computer models, but had been predicted by the sunspot index since 2000.

The solar wind normally protects the earth from 90 percent of the high-energy cosmic rays that flash constantly through the universe.

Henrik Svensmark at the Danish Space Research Institute has demonstrated that when more cosmic rays hit the earth, they create more of the low, wet clouds that deflect heat back into outer space. Thus the earth's recent cooling.

Unusually large amounts of Alaskan snow last winter were followed by unusually chilly temperatures there this summer.

"In general, the weather this summer was the worst I have seen in at least 20 years," says Bruce Molnia of the U.S. Geological Survey, and author of The Glaciers of Alaska.

"It's been a long time on most glaciers where they've actually had positive mass balance (added thickness)."

Overall, Molnia figures Alaska had lost 10-12,000 square kilometers of ice since 1800, the depths of the Little Ice Age.

That's enough ice to cover the state of Connecticut.

Climate alarmists claim all the glaciers might disappear soon, but they haven't looked at the long-term evidence of the 1,500-year Dansgaard-Oeschger climate cycles. During the Little Ice Age-1400 to 1850-Muir Glacier filled the whole of Glacier Bay.

Since then, the glacier has retreated 57 miles.

But the Little Ice Age was preceded by the Medieval Warming, the cold Dark Ages, a Roman Warming, and a whole series of moderate warmings and coolings that extend back at least 1 million years based on the evidence of the microfossils in the world's seabed sediments.

The sunspots are now predicting a 30-year cooling of the earth. That would thicken the Alaskan glaciers somewhat, but probably wouldn't refill Glacier Bay with ice. That'll have to wait for the next icy age.

The sunspot index has a 59 percent correlation with our temperatures (with a roughly ten-year lag). CO2 has only an "accidental" 22 percent correlation with our temperatures, which should be grounds for dismissing CO2 as a major climate player.

All this is radically different from the 5-degree C warming predicted by the computer models.

However, the scientific rule says: if actual observations tell you something that's the opposite of your theory, change your theory.
DailyTech
2008-10-16 en Alaskan Glaciers Grow for First Time in 250 years

A bitterly cold Alaskan summer has had surprising results. For the first time in the area's recorded history, area glaciers have begun to expand, rather than shrink.

Summer temperatures, which were some 3 degrees below average, allowed record levels of winter snow to remain much longer, leading to the increase in glacial mass.

"In mid-June, I was surprised to see snow still at sea level in Prince William Sound", said glaciologist Bruce Molnia. "In general, the weather this summer was the worst I have seen in at least 20 years".

"On the Juneau Icefield, there was still 20 feet of new snow on the surface [in] late July. At Bering Glacier, a landslide I am studying [did] not become snow free until early August."

Molnia, who works for the US Geological Survey, said it's been a "long time" since area glaciers have seen a positive mass balance - an increase in the total amount of ice they contain.

Since 1946, the USGS has maintained a research project measuring the state of Alaskan glaciers. This year saw records broken for most snow buildup. It was also the first time since any records began being that the glaciers did not shrink during the summer months.

Those records date from the mid 1700s, when the region was first visited by Russian explorers. Molnia estimates that Alaskan glaciers have lost about 15% of their total area since that time -- an area the size of Connecticut.

One of the largest areas of shrinkage has been at the national park of Glacier Bay. When Alexei Ilich Chirikof first arrived in 1741, the bay didn't exist at all - only a solid wall of ice. From that time until the early 1900s, the ice retreated some 50 miles, to form the bay and surrounding area.

Accordingly to Molnia, a difference of just 3 or 4 degrees is enough to shift the mass balance of glaciers from rapid shrinkage to rapid growth. From the 1600s to the 1900s, that's just the amount of warming that was seen, as the planet exited the Little Ice Age.

Molnia says one cold summer doesn't mean the start of a new climatic trend. At least years like this, however, might mark the beginning of another Little Ice Age.
6. Glaciers are growing in California. California?
You might be surprised to learn that the Golden State has glaciers.
And the Associated Press says they're growing
Fox News
2008-07-09

en

Mysterious California Glaciers Keep Growing Despite Warming
Global warming is shrinking glaciers all over the world, but the seven tongues of ice creeping down Mount Shasta's flanks are a rare exception: They are the only known glaciers in the continental U.S. that are growing.
http://letmegooglethatforyou.com/?q=california+glacier
7. A glacier is growing on Washington's Mt. St. Helens.
Mount Saint Helens has glaciers? But it's an active volcano.
But, but, but...
In the winter and early spring, snow tumbles down avalanche chutes on the crater walls.

Notes cave entrance in front of picture.
Glacier Caves (Charlie Anderson Jr.)
2000-12-15 en The beginning of a New Glacier Forming in the Crater of Mount St. Helens.
Snow Accumulation in the Crater of Mount St. Helens.

On Mount St. Helens, we have had a unique opportunity to study the interaction of geothermal energy with the accumulation of alpine snowpack from its inception after a major eruption.

We began investigative work in the crater in 1981 (Anderson and others,2000).

Yearly surveys began in 1982 with mapping, description, and photography of cave passages, snow, firn, and ice. This investigation involved reconnaissance mapping and sampling from 1981 through 2000 by members of the International Glaciospeleological Survey (IGS) with the permission of the U.S. Forest Service and Mount St. Helens National Volcanic Monument.

Over the last 20 years snow, ice and rock debris have average in excess of 325 feet thick have and in places there are 450 to 600 feet deep, that have accumulated behind the lava dome.

A new glacier is now forming in the crater of Mount St. Helens.

A permanent body of ice has accumulated in the crater. IGS Crater Team Scientists FIND THE START OF A NEW GLACIER crater Leader Charles H. Anderson Jr. in 1999.
KATU COM
2008-05-14 en Against odds, glacier grows in cauldron of Mt. St. Helens

"On May 18, 1980, the once bucolic ice-cream cone shape that defined Mount St. Helens in Washington state disappeared in monstrous blast of ash, rock, gas, and heat.

"Inside the volcano, which was once a soft dome of snow but is now a gaping, steaming menace with an unpredictable streak, an unexpected phenomenon is taking place: a glacier is growing.

"In these days of global warming concerns and scientists showing alarming then-and-now images of glaciers disappearing from mountainsides, it may be the only growing glacier in America - or maybe the world.
8. Glaciers are growing in France and Switzerland, too
| | |
| --- | --- |
| | Another continent has reported in. According to an article in the Journal of Geophysical Research, glaciers are growing in France and Switzerland, to |
World Climate Report
2007-06-26 en Mont Blanc Glaciers Refuse to Shrink?

If you have an interest in global warming and its effect on mountain glaciers, you will be thrilled to know that there are over one million websites on the subject.

Even before you get to the first site, you already know what you will find.

Burning fossil fuels increases atmospheric concentrations of greenhouse gases, the Earth is warming, mountain glaciers are in full retreat all over the planet, delicate ecosystems are in peril, and humans who rely on the freshwater from mountain glaciers better get creative fast.

Recall that in the Gore film, a great deal of attention was paid to the diminishing "snows of Kilimanjaro" - Gore has made hay in Glacier National Park as well pointing to shrinking glaciers.

Retreating mountain glaciers have become a poster-child of the global warming alarmists - no presentation on the subject is complete without one.

The Intergovernmental Panel on Climate Change (IPCC) says in their recent 2007 Summary for Policymakers "Mountain glaciers and snow cover have declined on average in both hemispheres.

Widespread decreases in glaciers and ice caps have contributed to sea level rise."

Someone in Europe missed the memo on this subject as a recent article has appeared in the Journal of Geophysical Research entitled "Very high-elevation Mont Blanc glaciated areas not affected by the 20th century climate change."

To say the least, we at World Climate Report were interested in what the authors had to say.

The research was conducted by six scientists from leading agencies and departments in France and Switzerland that deal with hydrology and glaciology.

Before you see the title of the article and immediately suspect some conspiracy funded by European coal companies, be aware that the research was funded by Observatoire des Sciences de l'Univers de Grenoble (OSUG), the European Programs ALPCLIM and CARBOSOL, and by the city of Chamonix Mont-Blanc.

Given the title of the article, we wonder if the six scientists will ever be funded again by any European agencies.

Mont Blanc is located on the border of Switzerland and France, and the summit of Mont Blanc is clearly visible from the United Nations complex in Geneva - the home of countless meetings of the IPCC and other international agencies addressing the climate change issue.

How ironic - based on the title of the article, we doubt the research will be prominently featured in any upcoming IPCC meeting in Geneva?

Vincent et al. state "The most striking features of these figures are the small thickness changes observed over the 20th century.

For both areas, thickness variations do not exceed ±15 m. The average changes are +2.6 m at Dôme du Goûter (please note that this glacier is growing) and -0.3 m (-12 inches) at Mont Blanc.

Considering the uncertainty interval, i.e., ±5 m, it can be concluded that no significant thickness change is detectable over most of these areas.

All these results suggest that the SMB at Dôme du Goûter and Mont Blanc did not experience any significant changes over the 20th century.
Not by Fire but by Ice
2007-10-15 en Mont Blanc glacier almost doubles in size in four years

"The volume of ice on Mont Blanc's slopes over 4800 metres high was first calculated at 14,600 cubic metres in 2003.

It dropped to 14,300 cubic metres two years later, but then almost doubled to 24,100 cubic metres in 2007.
9. New Zealand's largest glaciers are growing
| | |
| --- | --- |
| | Growing may not be a strong enough word. They're surging. |
10. Russia's glaciers are growing, too
| | |
| --- | --- |
| | The Russians don't believe the IPCC forecasts, but they do believe their own eyes. |
Not by Fire but by Ice
2002-09-20 en Glaciers are growing around the world, including the United States

Russian glaciers surging - On September 20, 2002, a huge 22-million ton piece of the gigantic Maili Glacier broke loose and crashed down a steep gorge into the village of Kami killing more than 150 people and injuring hundreds more.

The 500-foot wall of ice had been growing for six years.

The Maili Glacier is just one of several glaciers in the North Caucasus Mountains that have been EXPANDING at an alarming rate.

Other towns in the region have been partially buried by these advancing walls of ice.

One local scientist in southern Russia said, "we may be seeing the beginning of a new great ice age!!!"
11. Argentina's Perito Moreno glacier is, you guessed it, growing
| | |
| --- | --- |
| | Is there a continent where glaciers aren't growing? If so, South America isn't one of them. Consider Argentina's Perito Moreno glacier. |
Not by Fire but by Ice
2009-06-15 en Largest glacier in Argentina advancing

"Nourished by Andean snowmelt, the glacier constantly grows even as it spawns icebergs the size of apartment buildings into a frigid lake, maintaining a nearly perfect equilibrium since measurements began more than a century ago."

Perito Moreno, a vast, 19-mile-long (30km) and 3-mile-wide (5 km) river of ice, is the largest glacier in Patagonia.
msnbc.com
2009-06-15 en Argentine glacier advances despite warming

Argentina's Perito Moreno glacier is one of only a few ice fields worldwide that have withstood rising global temperatures.

Nourished by Andean snowmelt, the glacier constantly grows even as it spawns icebergs the size of apartment buildings into a frigid lake, maintaining a nearly perfect equilibrium since measurements began more than a century ago.

"We're not sure why this happens," said Andres Rivera, a glacialist with the Center for Scientific Studies in Valdivia, Chile. "But not all glaciers respond equally to climate change."
Gilbert Ashoff
2007-0-22 en Gore's glacial lie

An interesting footnote and one of the major lies in the movie "An Inconvenient Truth" is that Mr. Gore and Co. show the Perito Moreno Glacier in So. Argentina as an example of the result of global warming.

In fact my wife Marjorie and I have visited this glacier 3 times. First in 1973 and again in 2004 and 2006.

It is growing. It is visibly larger and pushing further across Lago Argentina.

They used this in the movie twice all the while misrepresenting its growth and in fact stating it is shrinking showing a huge chunk falling off as it does every 30 minutes or so. It is a dramatic glacier that yields tremendous photo ops to just about anyone who visits it, which I must presume is why it was used.
12. Iceland's Breidamerkurjokull glacier. Yup, it's growing, too.
The Daily Mail UK ran a story on July 31, 2009 about the horrors of global warming. It was accompanied, for some inexplicable reason, by contradictory photos that showed the remarkable growth of Iceland's Breidamerkurjokull glacier.
Their headline screamed, "How global warming is changing the face of the northern hemisphere."
The photos and caption told a story that was, you'll pardon the expression, the polar opposite of what the article described.
Chilling reminder: An aerial view shows huge ice towers and crevasses on the glacier.

"The drastic alterations have been blamed on greenhouses gases."
Mail Online
2009-07-31 en In pictures: How global warming is changing the face of the northern hemisphere

Slowly but surely the Breidamerkurjokull glacier is melting away.

This 60 mile long expanse of ice has edged from the mountains into a lagoon and over the past 30 years has shown no sign of moving back.

Over this time professional photographer Ragnar Sigurdsson has been documenting the alarming phenomenon that has been taking place.

In the past, the beautiful lagoon remained unfrozen even in winter except for the occasional drifting iceberg. But now, as these aerial images show, it appears like a solid mass even in the summer.

'It is perfectly natural for a glacier to move. They tend to recede or advance in cycles but this time the tongue of the Breidamerkurjokull has come all the way down into the lagoon.'

The disturbing changes pose little threat to structures or human life, with the nearest town over 60 miles away. But the rapid influx of ice is seen as a chilling reminder that greenhouses gases are altering the planet.

Ragnar, 51, from Reykjavik, said: 'There is no threat of a disaster. The rate that the water rises, it would take more than 50 years for it to take the bridge but people in the area still feel it's global warming that's doing it.

'The end result is this extra freshwater is pouring into the sea at an alarming rate.'

Despite the beautiful appearance of the contrast in water types, the pictures will worry environmentalists across the world.
Gletscher im Himalaya


en

Himalaya Glaciers


fr

Glaciers au Himalaya
de Gletscher im Himalaya
Klimaskeptiker Info
2009-08-27 de Gletscher haben schon weit wärmere Phasen überstanden

Forscher der Brigham Young Universität (BYU) haben die Geschichte etlicher Gletscher im Himalaya untersucht.

In der Erwärmungsphase vor 9000 Jahren haben sich viele Gletscher zurückgezogen (was nach dem Ende der Eiszeit eine natürliche und lang anhaltende Entwicklung darstellte).

Einige Gletscher im Südwest-Himalaya sind aber genau in dieser Periode von einem auf sechs Kilometer angewachsen.

Für die Zunahme der Eismassen kommen stärkere Monson-Niederschläge und eine Veränderung lokaler und regionaler Wettermuster in Frage.
Klimaskeptiker Info
2010-01-17 de Pachauris Irreführung der ganzen Welt über das Schmelzen der Himalaya-Gletscher

Rajendra Pachauri, der in letzter Zeit wegen seiner Verflechtungen mit der indischen Energiewirtschaft ins Schußfeld geratene Chef des IPCC, des sogenannten "Weltklimarats" der Vereinten Nationen (UN), hat vor ein paar Wochen die indische Regierung der Arroganz beschuldigt, weil diese das von seinem IPCC prophezeite Verschwinden der Himalaya-Gletscher bis 2035 für unwahrscheinlich hält und vor allem keinen Zusammenhang mit der vermeintlichen anthropogenen Erwärmung (AGW) anerkennt.
Klimaskeptiker Info
2011-01-27 de Studie: Himalaya-Gletscher schmelzen nicht wegen Klimawandels

Himalaya-Gletscher sind momentan auf dem Vormarsch statt auf dem Rückzug, sagt die erste große Studie nach der Veröffentlichung der falschen Prognose im (nobelpreisgekrönten!) 4. IPCC-Bericht 2007, nach der die Gletscher bis 2035 verschwinden sollten.

Forscher haben herausgefunden, daß entgegen einer weitverbreiteten Annahme die Hälfte der Gletscher im Karakorum-Gebiet momentan wachsen statt zu schrumpfen.
en Himalayan glaciers
Times Online
2010-01-17 en World misled over Himalayan glacier meltdown

IPCC chairman Rajendra Pachauri accuses Indian environment ministry of A WARNING that climate change will melt most of the Himalayan glaciers by 2035 is likely to be retracted after a series of scientific blunders by the United Nations body that issued it.

Two years ago the Intergovernmental Panel on Climate Change (IPCC) issued a benchmark report that was claimed to incorporate the latest and most detailed research into the impact of global warming. A central claim was the world's glaciers were melting so fast that those in the Himalayas could vanish by 2035.

In the past few days the scientists behind the warning have admitted that it was based on a news story in the New Scientist, a popular science journal, published eight years before the IPCC's 2007 report.

It has also emerged that the New Scientist report was itself based on a short telephone interview with Syed Hasnain, a little-known Indian scientist then based at Jawaharlal Nehru University in Delhi.

Hasnain has since admitted that the claim was "speculation" and was not supported by any formal research. If confirmed it would be one of the most serious failures yet seen in climate research. The IPCC was set up precisely to ensure that world leaders had the best possible scientific advice on climate change
Watts Up With That? (Antony Watts)
2011-01-27 en New science on Himalayan glaciers shows debris fields to be a regulating factor in melting

Himalayan glaciers not melting because of climate change, report finds

Himalayan glaciers are actually advancing rather than retreating, claims the first major study since a controversial UN report said they would be melted within quarter of a century.

Researchers have discovered that contrary to popular belief half of the ice flows in the Karakoram range of the mountains are actually growing rather than shrinking.
Quelle / Source:
fr Himalaya glaciers
20 Minutes
2010-01-20 fr Fonte des glaciers de l'Himalaya: le GIEC reconnaît son erreur mais défend la tendance

En 2007, dans son 4è rapport, qui lui avait valu le Prix Nobel de la Paix, le GIEC avait estimé que les glaciers de l'Himalaya reculaient plus vite que les autres du monde et «pourraient disparaître d'ici 2035, voire avant».

Rajendra Pachauri, le chef du groupe, a déclaré à la presse à Abou Dhabi en marge d'un sommet sur les énergies du futur, que même si cette prévision était erronée, il n'en demeure pas moins que le changement climatique est réel.
HimalayaGate
Gletscher in Alaska
Die kalte Sonne (Fritz Vahrenholt & Sebastian Lüning)
2013-11-05 de Und plötzlich taute ein ganzer Wald aus dem Gletscher aus: Während der Römischen Wärmephase vor 2000 Jahren waren Gletscher in Alaska und British Columbia kürzer als heute

Gletscher in Alaska bedecken etwa 5% der Staatsfläche und reichen zum Teil bis an die Küste heran.

Molnia weist in der Zusammenfassung darauf hin, dass sich die Gletscher in Alaska während der Kleinen Eiszeit stark ausgedehnt hatten, jedoch seit dem 18. Jahrhundert wieder im Rückzug begriffen sind, ein Prozess der bis heute anhält.

Es gibt vermutlich mehr als 100.000 Gletscher in Alaska, von denen aber lediglich 600 einen offiziellen Namen tragen.

Die größten drei Gletscher sind der Mendenhall, Columbia und Ruth Gletscher.

Im September 2013 meldete NBC News, dass aus dem schrumpfenden Mendenhall Gletscher kürzlich ein ganzer fossiler Wald aus der Römischen Wärmeperiode von vor 2000 Jahren auftauchte.

Zu jener Zeit muss der Mendenhall Gletscher also deutlich kürzer gewesen sein als heute.

Die Schmelzrate hat sich im Vergleich zur ersten Hälfte des 20. Jahrhunderts sowie dem 19. Jahrhundert signifikant verlangsamt.

Für die Zeit zwischen 1770 und 1948, also dem Übergang von der Kleinen Eiszeit zur Modernen Wärmperiode, ermittelten Johnson und Kollegen einen Schmelzbetrag von knapp 18 Gigatonnen pro Jahr.

Allmählich scheinen sich die Gletscher der Region zu stabilisieren, nachdem das in der Kleinen Eiszeit zusätzlich gebildete Eis wieder verschwunden ist.

Die Zeiten einer simplistischen Extrapolation der schlimmsten Schmelzrate bis 2100 sind eindeutig vorbei.
US Geological Survey / Bruce F. Molnia
en Glaciers of North America - GLACIERS OF ALASKA

About 5 percent (about 75,000 km2) of Alaska is presently glacierized, including 11 mountain ranges, 1 large island, an island chain, and 1 archipelago.

The total number of glaciers in Alaska is estimated at >100,000, including many active and former tidewater glaciers. Glaciers in every mountain range and island group are experiencing significant retreat, thinning, and (or) stagnation, especially those at lower elevations, a process that began by the middle of the 19th century.
| de | en | fr |
| --- | --- | --- |
| Auswirkungen des Klimas Teil I | Effects of Climate Change Part I | Conséquences du changement climatique, partie I |
| Alaska | Alaska | Alaska |
Gletscher im US-Bundesstaat Montana
Mount Kilimanjaro, Tanzania, Africa
Snow slowly building on Mount Kilimanjaro

Die Weltwoche 09/10 / Hans Rentsch
2010-03-03 de Verzerrte Bilder

Eine besonders beliebte Ikone der KlimaAlarmisten ist die schmelzende Eiskappe des majestätischen Kilimandscharo.

Auch Al Gore verwendete die Story vom Verschwinden der Kilimandscharo-Eiskappe in seinem Film "Eine unbequeme Wahrheit".

Was die Forschung zum Rückgang des Kilimandscharo-Eises tatsächlich sagt, kann man im Buch "Climate of Extremes" der Umwelt- und Klimaforscher Patrick J. Michaels (IPCC-Autor) und Robert C. Balling nachlesen:

Erstens hatten die Gletscher des Kilimandscharo nach Ende der letzten Eiszeit, als es während mehrerer Jahrtausende ohne menschliches CO2 wärmer war als heute, eine viel grössere Ausdehnung.

Zweitens hat die Forschung festgestellt, dass in Ostafrika um 1880 ein markanter Rückgang der Feuchtigkeit in der Atmosphäre stattfand.
Damals begannen gleichzeitig mit dem Rückgang der Gletscher die Spiegel der ostafrikanischen Seen zu sinken.

Die Ausdehnung der Kilimandscharo-Eiskappe hat offenbar primär mit der Luftfeuchtigkeit zu tun.

So ist es auch nicht überraschend, dass die Gletscher an den Flanken des Berges zwischen 1912 und 1953, als es noch keinen nennenswerten CO2-Einfluss gab, stärker zurückgingen als heute.

Die Schrumpfungsrate zwischen 1989 und 2003 war sogar die kleinste in der untersuchten Periode von 1912 bis 2003. N. J. Cullen (Universität Innsbruck) und seine Co-Autoren folgerten in einem Beitrag in der Zeitschrift Geophysical Research Letters, dass die Gletscher des Berges als Überreste eines früheren Klimas zu sehen seien.

Als Ikone für den menschenverursachten Klimawandel scheidet der Kilimandscharo aus.
2001-02-25: Auch hier kann eine Entwarnung durchgegeben werden!
ClimateGate 2: Nicht einmal Jones und Thompson glauben an Al Gores Behauptungen über den Kilimandscharo-Gletscher


en

Al Gore's global warming claims on Kilimanjaro glacier - finally dead and buried in the Climategate 2.0 emails - even Phil Jones and Lonnie Thompson don't believe it
Klimaskeptiker Info (Andreas Kreuzmann)
2011-11-23 de ClimateGate 2: Nicht einmal Jones und Thompson glauben an Al Gores Behauptungen über den Kilimandscharo-Gletscher

Al Gore hat in seinem Film "Eine unbequeme Wahrheit" behauptet, die Schnee- und Eiskappe des Kilimandscharo verschwinde seit einigen Jahren als Folge der vermeintlichen globalen Erwärmung, die das Eis abschmelzen lasse.

Als Zeugen nennt er unter anderem "seinen Freund Lonny Thompson".

Aus den ClimateGate-2-E-Mails wird jetzt deutlich daß weder Thompson noch Phil Jones an die Abschmelz-These glauben.

Hier die Transskription aus dem Film "An Inconvenient Truth":


And now we're beginning to see the impact in the real world.
This is Mount Kilimanjaro more than 30 years ago, and more recently.

And a friend of mine just came back from Kilimanjaro with a picture he took a couple of months ago.
Another friend of mine Lonnie Thompson studies glaciers.
Here's Lonnie with a sliver of a once mighty glacier.
Within the decade there will be no more snows of Kilimanjaro.

Entweder also hat Al Gore die Welt absichtlich belogen - oder er ist schlicht ahnunglos, weil ihn ein "Freund" wie Lonny Thompson mit der gewünschten Propaganda versorgt hat, obwohl er wußte, daß das Eis am Kilimandscharo nicht schmilzt, sondern sublimiert.

Sublimation ist per Definition ein Vorgang bei Temperaturen unter dem Gefrierpunkt und kann daher nicht mit der vermeintlichen Globalen Erwärmung in Verbindung gebracht werden.

Die ClimateGate-2-E-Mails zeigen auch, daß die Bande wußte, daß es keinen Hinweis auf steigende Temperaturen am Kilimandscharo gibt.

Wir sehen dank ClimateGate und ClimateGate 2 die zwei Gesichter der AGW-Alarmisten: Thompson weiß, daß die vermeintliche Erwärmung nichts mit dem Verschwinden der Eiskappe am Kilimandscharo zu tun hat, aber im Sinn der Klima-Propganda kurz vor dem UN-Klimagipfel 2010 in Cancún erweckte er in Öffentlichkeit den genau gegenteiligen Eindruck.

Das ist es, was uns ClimateGate zeigt:
Nicht einmal die Alarmisten selbst glauben an ihre Behauptungen.
Watts Up With That? (Antony Watts)
2011-03-21 en Al Gore's global warming claims on Kilimanjaro glacier - finally dead and buried in the Climategate 2.0 emails - even Phil Jones and Lonnie Thompson don't believe it

Al Gore said in his AIT bag of BS that Mount Kilimanjaro was losing its snow/ice cover due to global warming.

Here's the Transcript of "An Inconvenient Truth":

Effects of Global Warming
And now we're beginning to see the impact in the real world.
This is Mount Kilimanjaro more than 30 years ago, and more recently.

And a friend of mine just came back from Kilimanjaro with a picture he took a couple of months ago.
Another friend of mine Lonnie Thompson studies glaciers.
Here's Lonnie with a sliver of a once mighty glacier.
Within the decade there will be no more snows of Kilimanjaro.

I've said this many times, Kilimanjaro's loss of ice cover has to do with sublimation, not warming.
The picture of Thompson next to the sliver of ice proves it.
Note there's no meltwater near him.
That sliver is a symptom of sublimation - ice evaporating directly into the air, just like ice cubes shrink when left in the freezer too long.

Almost a year ago I wrote this:

OSU's Dr. Lonnie Thompson pushes gloom and doom, still thinks the snows of Kilimanjaro are melting due to global warming

And now today, here's indication in the Climategate 2.0 emails that I was right.

date: Sat Sep 18 08:48:09 2004
from: Phil Jones <p.jones@uea.xx.xx>
subject: Re: kilimanjaro
to: "Jenkins, Geoff" <geoff.jenkins@metoffice.xx.xx>

I've heard Lonnie Thompson talk about the Kilimanjaro core and he got some local temperatures - that we don't have access to, and there was little warming in them.
The same situation applies for Quelccaya in Peru and also some of his Tibet sites. Lonnie thinks they are disappearing because of sublimation, but he can't pin anything down.
Kilimanjaro regaining its snow cap
Watts Up With That? (Antony Watts)
2011-03-21 en Kilimanjaro regaining its snow cap

"Global warming" has nothing to do with this, it's all about rainfall, deforestation, and evapotranspiration.

I'm not ashamed to say: "We told you so", several times:

2011-03-21 en "Snows of Kilimanjaro defy global warming predictions"

"Unfortunately, we made the prediction. I wish we hadn't," says Douglas R. Hardy, a UMass geoscientist who was among 11 co-authors of the paper in the journal Science that sparked the pessimistic Kilimanjaro forecast.

"None of us had much history working on that mountain, and we didn't understand a lot of the complicated processes on the peak like we do now."
Quellen / Sources:
eTurboNews
2011-03-15 en Snow slowly building on Mount Kilimanjaro

TANZANIA, Africa (eTN) - Standing as the highest mountain in Africa, Mount Kilimanjaro is slowly regaining its snow after several years of drought in East Africa and the effects of climate change in African continent.

The snow is slowly mounting on the top point of the mountain, giving new hopes to Mount Kilimanjaro environmental watchdogs and tourists that the mountain may not lose its beautiful ice cap as scientists predicted.

Covered in mist most of the day, Mount Kilimanjaro is the most tourist attractive site in Tanzania, pulling in tens of thousands of tourists each year.

The snow, which once disappeared in some parts of the mountain is mounting slowly, giving a beautiful view of the Kibo peak.
MassLive.com
2011-03-19 en Snows of Kilimanjaro defy global warming predictions

Although scientists, including some from the University of Massachusetts, predicted a decade ago that the snows of Kilimanjaro could vanish by 2015, a prediction that became a part of key evidence for global warming offered during the 2006 documentary "An Inconvenient Truth," new studies indicate the snowcap will remain for several more decades.

"Unfortunately, we made the prediction. I wish we hadn't,"

says Douglas R. Hardy, a UMass geoscientist who was among 11 co-authors of the paper in the journal Science that sparked the pessimistic Kilimanjaro forecast.

"None of us had much history working on that mountain, and we didn't understand a lot of the complicated processes on the peak like we do now."

H. Sterling Burnett, a senior fellow and head of environmental programs at the National Center for Policy Analysis, a conservative think tank based in Texas, said the Kilimanjaro prediction "is just one in a number of global warming scare stories that scientists have had to recant or at least modify in the face of substantial counter evidence."

Representatives for Al Gore declined to comment on this article.
Watts: "We told you so", several times:
Watts Up With That? (Antony Watts)
de Aus der Panik-Küche en From the panic laboratory fr De la marmite des alarmistes
Spiegel Online
2006-07-21 en Did Al Get the Science Right?

The usual oil industry flacks and dogmatic skeptics have surfaced to denounce Al Gore's global warming movie.

But climate scientists say that, basically, he got it right.
Zurückgehende Gletscher


en

Retreating Glaciers


fr

Diminution des glaciers
Gletscherlänge


en

Glacier length


fr

Longueur des glaciers
Weitere Websites
de

Der Gletscherschwund bietet Naturwissenschaftlern auch die Chance für neue Erkenntnisse. So liegt unter den Gletschern konserviert jahrtausendealtes Holz, gewachsen, als keine Zivilisation die Atmosphäre beeinflusste und die Erde dennoch wärmer war als heute.

SF1 Schweizer Fernsehen
2008-10-23

de

Gletscherholz als Klimaarchiv
Aus der Panik-Küche
de Aus der Panik-Küche en From the panic laboratory fr De la marmite des alarmistes
2 Auswirkungen auf den Meeresspiegel


en

Effects on Sea level


fr

Effets sur le niveau des océans
---
Teil 1: Aktuelle Situation
en Actual Situation
fr Situation actuelle
News
de ⇒ Siehe auch Teil 3: Meeresspiegel in der Vergangenheit
EIKE Europäisches Institut für Klima und Energie
2012-10-07 de Globaler Meeres-Spiegel : Der Anstieg schwächt sich weiter ab!

Seit ca. 150 Jahren gibt es an den Meeres-Küsten zahlreiche Pegelmessungen, seit 1992 Messungen von Satelliten mit Kurzwellenradar-Systemen.

Alle zeigen den gleichen Trend, nämlich:

Eine Abschwächung des Millennium-Anstieges.

Das Parade-Pferd der Warmisten und Alarmisten lahmt !
en ⇒ See also Part 3: Sea Level History
Die Meeresspiegel sind sogar gefallen!


en

Sea levels were even falling!


fr

Les niveaux des océans ont même baissés!
de

Die satellitengemessenen Meerespiegel der Erde sinken seit dem Ausfallen der Sonnenflecken im Dezember 2006

en

Sea levels measured by satellites are falling since the end of 2006; no sun spots since then

fr

Le niveau des océnas baisse après un manque d'éruptions solaires fin 2006.
en

Since August 1992 the satellite altimeters have been measuring sea level on a global basis with unprecedented accuracy.

Universtiy of Colorado at Boulder

en

Sea level change
de Aus der Panik-Küche en From the panic laboratory fr De la marmite des alarmistes
de

Was ist dran am globalen Anstieg des Meeresspiegels?
de Die Meeresspiegel fallen seit Ende 2006
en Sea levels are falling since the end of 2006


de Der Meeresspiegel bei den Maldiven in den letzten 500 Jahren
en The Maldives Sea Level Curve of the last 500 years

| | |
| --- | --- |
| Nils-Axel Mörner | Dr., Head of the Paleogeophysics and Geodynamics department at Stockholm University in Sweden. |
EIKE Europäisches Institut für Klima und Energie
2010-02-08 de Was ist dran am globalen Anstieg des Meeresspiegels?

Das IPCC - häufig hochtrabend "Weltklimarat" genannt - scheut sich nicht auch noch die krudesten Zeitungsenten, sofern sie von Umweltgruppen wie dem WWF kommen und ins Panikkonzert passen, als "wissenschaftlichen" Beleg für seine Phantasien zu bezeichnen.

So wieder geschehen mit der Tartarenmeldung über die Niederlande im IPCC-Bericht 2007.

Dort steht: "Die Niederlande sind das Beispiel dafür, dass das Land sowohl von der Steigung des Meeresspiegels als auch durch Überschwemmungen der Flüsse gefährdet ist, denn 55 Prozent des Landes liegen unter dem Meeresspiegel."

Wie so häufig beim IPCC stimmt auch das nicht, denn nur 26 Prozent der Fläche der Niederlande, (die 41 525 Quadratkilometer beträgt), liegen unter dem Meeresspiegel.

Und bedroht sieht sich dort niemand. Selbst die niederländische Umweltministerin Jaqueline Kramer glaubt diesen Humbug nicht und fordert eine Untersuchung.

Man fragt sich allerdings wofür?

Was es wirklich mit dem Meeresspiegel auf sich hat, erklärt uns einer der weltweit besten Meeresspiegel Experten N.A. Mörner im Glashouse Interview.
EIKE Europäisches Institut für Klima und Energie
2010-06-07 de Anstieg des Meeresspiegels - welcher Anstieg?

Eine der vielen Präsentationen auf der 4. Internationalen Klimakonferenz des Heartland Instituts (Heartland Institute's fourth International Conference on Climate Change) stammte vom Meeresspiegelexperten Nils Axel Mörner, dem inzwischen emeritierten Leiter des Fachbereichs Paläogeophysik und Geodynamik an der Universität von Stockholm.

Sein Vortrag konzentrierte sich auf den vermuteten Anstieg des Meeresspiegels und den Unterschied zwischen dem tatsächlichen Anstieg und dem vom IPCC stammenden diesbezüglichen Modellergebnissen.

Von den Alarmisten wurden Mörners Arbeiten immer wieder in Zweifel gezogen, z.T. versucht lächerlich zu machen.

Die jüngsten Medien-Berichte zur Ausweitung der Fläche von Bangladesh und des Anstiiegs der Südseeinseln von Tuvalu und den Malediven (s.u) geben ihm jedoch mal wieder eindrucksvoll Recht.
Welt Online/Michael Miersch
2010-06-05 de Die Drohkulisse der Untergangspropheten ist weg

Angeblich versinkende Südseeinseln sind ein starkes Kapitel in der großen Erzählung von einer herannahenden Klimakatastrophe.

Wie schwindende Eisbären und die schmelzende Gletscher weckt die Botschaft von den untergehenden Tropenparadiesen heftigere Gefühle als dürre Temperaturkurven.

Dass die Bestände der Eisbären sich erfreulich vermehren, haben Zoologen schon vor Jahren dokumentiert (obwohl Al Gore und seine Freunde weiterhin das Gegenteil behaupten).

Dass die Gletscher im Himalaja längst nicht so schnell schmelzen wie der Weltklimarat behauptet, bewiesen indische Wissenschaftler vergangenen Herbst.

Und jetzt versinkt auch noch das Insel-Szenario.

Forscher von den Fidschi-Inseln und aus Neuseeland veröffentlichten diese Woche einen Vergleich historischer und aktueller Luftaufnahmen von 27 Pazifik-Inseln.

Ergebnis: 23 davon sind seit den 50er-Jaren gleich groß geblieben oder gewachsen.

Sogar der Inselstaat Tuvalu, der immer wieder als dem Untergang geweiht dargestellt worden war, besitzt heute mehr Landfläche als damals.

Sieben seiner neun Atolle wurden größer.

Ähnlich gut sieht es für Malediven im indischen Ozean aus, deren Ministerpräsident vor dem Kopenhagener Klimagipfel medienwirksam unter Wasser posiert hatte.

Und auch die Küstenlinie von Bangladesch weitet sich aus, statt zu schrumpfen.
The Heritage Foundation
2010-05-21 en Sea Level Rises... What Sea Level Rises?

Another one of the standout presentations at the Heartland Institute's fourth International Conference on Climate Change was the one by Nils-Axel Morner, former emeritus head of the paleogeophysics and geodynamics department at Stockholm University.

His talk focused on sea level increases and the difference between observed data and the Intergovernmental Panel on Climate Change (IPCC) model's predictions.
en

Oceangate: sea levels proven to have fallen for past six years
Open Letter to President Mohamed Nasheed of the Maldives
National Post
2009-10-20

en

Maldives' president all wet on sea level
On Oct. 17, Mohamed Nasheed, president of the Maldives, an island country off the coast of India, held a meeting of his Cabinet underwater to dramatize the risks he says his country faces from rising sea levels caused by global warming.
Yesterday, Swedish scientist Nils-Axel Mörner, a specialist in sea level changes, wrote Mr. Nasheed the following letter
Nils-Axel Mörner
Head of Paleogeophysics & Geodynamics at Stockholm University, Sweden (1991-2005)
President of the INQUA Commission on Sea Level Changes and Coastal Evolution (1999-2003)
Leader of the Maldives Sea Level Project (2000 on)
Chairman of the INTAS project on Geomagnetism and Climate (1997-2003)
Awarded the Golden Condrite of Merit from Algarve University (2008) "for his irreverence and contribution to our understanding of sea level change"
2009-10-20

en

Open Letter to President Mohamed Nasheed of the Maldives
Mr. President, You have recently held an undersea Cabinet meeting to raise awareness of the idea that global sea level is rising and hence threatens to drown the Maldives. This proposition is not founded in observational facts and true scientific judgements, Accordingly it is incorrect.
Sea Level in the Southwest Pacific is stable
Graphs of sea level for twelve locations in the southwest Pacific show stable sea level for about ten years over the region.
The data ... suggest that any rise of global sea level is negligible.
The sites of sea level monitoring stations.
The South Pacific Sea Level & Climate Monitoring Project
The New Zealand Climate Coalition
2009-07-01 en Why Ice Sheets won't raise Sea Level


• Shelf ice is floating, because it is less dense than seawater.

When floating ice melts, there is no change in sea level.

This is a bit of elementary physics known as Archimedes' Principle.

• The breakup of ice shelves is normal and inevitable.

Ice caps grow by precipitation in the uplands, flow at depth, and at the ice front the ice either melts or breaks off as icebergs.

The ice never simply keeps flowing to the equator.

Icebergs are produced in both times of climate warming and times of cooling, so they tell us nothing of climate change.

• Antarctica: The Department of Atmospheric Sciences at the University of Illinois provides data on sea ice anomalies.

On 22 May 2009 global sea ice was 2.6% ABOVE the 1979-2000 average.

• Satellite data from 1982 to 2003 (published in the Journal of the Royal Society) showed that the Antarctic icesheet is growing higher from precipitation at about 5 mm/yr which would LOWER sea level.

• In Scandinavia, which is rising in response to loss of the old ice sheet the sea level is falling: Goteborg, Sweden -1.3 mm/yr; Oslo, Norway -4.53 mm/yr.

• Two favourites of sea level alarmists are Tuvalu and the Maldives.

Sea level measurements for Tuvalu (and 10 other stations) between 1992 and 2006 are available on Fig. 13 on the Australian Bureau of Meteorology website.

For about the past eight years the sea level seems to be virtually constant.

Sea level in the Maldives was studied in enormous detail by the doyen of sea level scientists, Niklas Axel-Mörner.

His team determined the sea level curve over the past 5,000 years based on evidence of morphology, stratigraphy, biology and archaeology supported by extensive C14 dating, and found that

"All over the Maldives there is evidence of a sub-recent sea level some 20 cm higher than the present one.

In the 1970s, sea level fell to its present position."
Kehrtwende in der Staatskommunikation auf den Malediven: Präsident der Inselgruppe versichert, dass die Malediven nicht untergehen werden
Meeresspiegelanstieg: Grönland-Eis schmilzt langsamer als erwartet
Spiegel Online
2013-05-09 de Meeresspiegelanstieg: Grönland-Eis schmilzt langsamer als erwartet

Die Schmelze in Grönland entscheidet wesentlich darüber, wie schnell der Meeresspiegel steigt. Nun zeigt die Forschung an fünf Gletschern des Landes: Die nordische Eiskappe wird wohl gemächlicher tauen als angenommen.

Auf ganz Grönland übertragen rechnen sie mit einem Anstieg bis zum Jahr 2100 um höchstens 18 Zentimeter.

Die neuen Schätzungen liegen im Rahmen der Prognose des Uno-Klimarats IPCC. Manche Studien hatten die Befürchtung genährt, der IPCC könnte die Schmelze in Grönland unterschätzen.
Teil 2: Meeresspiegelprognosen
en Prognostics
fr Prévisions
Europäisches Forschungskonsortium verwirft extreme Meeresspiegelprognosen
"Die Ergebnisse geben uns eine gewisse Planungssicherheit für den Küstenschutz"
Universität Siegen
2013-07-18 de "Die Ergebnisse geben uns eine gewisse Planungssicherheit für den Küstenschutz"

Dr. Thomas Wahl von der Universität Siegen publizierte gemeinsam mit einem europäischen Konsortium eine Studie zur Veränderung des Mittleren Meeresspiegels an der gesamten Nordsee.

Er fand anhand der erhobenen Daten heraus, dass der Meeresspiegel in diesem Bereich um ca. 1,7 mm pro Jahr im letzten Jahrhundert angestiegen ist.

Jensen: "Das steht in gutem Kontext zum globalen Mittleren Meeresspiegelanstieg."

Dass diese Schlussfolgerung derart exakt ausfällt, liegt an der mittlerweile stattlichen Datenmenge, die es ermöglicht, den Mittleren Meeresspiegel genau zu berechnen.

So liegen zum einen sehr lange Aufzeichnungen von Tidepegeln vor, die seit hunderten von Jahren entlang der Küste installiert sind und Wasserstandsveränderungen aufzeichnen.

Zum anderen stehen seit Anfang der 1990er Jahre satellitengestützte Informationen zu Änderungen der Meeresoberfläche, so genannte Altimeterdaten vor.

Die Fülle an verfügbaren Informationen erlaubt es Wissenschaftlern heutzutage auch, die unterschiedlichen Ursachen für die beobachteten Änderungen besser zu quantifizieren.

So besitzt Wasser seine größte Dichte bei 4° C. Jensen: "Wenn das Wasser wärmer wird, braucht es mehr Platz."

Steigt der Mittlere Meeresspiegel nach Berücksichtigung der Einflüsse von Wind und Luftdruck, gibt es eine direkte Ursachenverbindung zwischen Dichteeffekt und Klimaveränderung.

Aber auch die Absenkung von Küstenbereichen kann zum lokalen Anstieg des Meeresspiegels führen.

Ursachentrennung ist daher unabdingbar für valide Rückschlüsse.
Observed mean sea level changes around the North Sea coastline from 1800 to present
Teil 3: Meeresspiegel in der Vergangenheit
en Sea Level History
fr L'hisoire des niveaux des mers
de ⇒ Siehe auch Teil 1: Meeresspiegel News
en ⇒ See also Part 1: Sea Level News
Meeresspiegel-Anstieg vor Kohlenwasserstoff-Anstieg


en

Sea level rise before Hydrocarbon use increase


fr

Augmentation du niveau des océans avant l'augmentation des hydrocarbures
Figure 11: Sea Level Increase 7 Inches (ca. 18 cm) per Century


de Meeresspiegel-Anstieg vor Kohlenwasserstoff-Anstieg:
Kein Einfluss von CO2 und der fossilen Energien!

en Sea level rise before Hydrocarbon use increase:
No influence of CO2 and fossile energy!
(It is unaffected by the very large increase in hydrocarbon use.)

fr Augmentation du niveau des océans avant l'augmentation des hydrocarbures:
Pas d'influence du CO2 et des énergies fossiles!
Oregon Institute of Science and Medicine / Petition Project
en Figure 11: Sea Level Increase 7 Inches (ca. 18 cm) per Century

Global sea level measured by surface gauges between 1807 and 2002 and by satellite between 1993 and 2006.

Satellite measurements are shown in gray and agree with tide gauge measurements.

This trend lags the temperature increase, so it predates the increase in hydrocarbon use even more than is shown.

It is unaffected by the very large increase in hydrocarbon use.
en Note that from 15,000 years ago to 8,000 years ago, sea level rose about 14mm/year - which is more than four times faster than the current rise rate of 3.3mm/year, as reported by the University of Colorado.
During the last ice age, sea level was so low that people were able to walk from Siberia to Alaska across the Bering Strait.
One of the more stunning pieces of evidence of this is the remarkable similarity of appearance and culture between the indigenous peoples of Eastern Siberia and North America.
In 2002, the BBC reported that a submerged city was found off the coast of India, 36 meters below sea level.
This was long before the Hummer or coal fired power plant was invented.
It is quite likely that low lying coastal areas will continue to get submerged, just as they have been for the last 20,000 years.
During the last ice age, thick glaciers covered all of Canada and several states in the US, as well as all of Northern Europe. As that ice melts, the water flows into the ocean and raises sea level.
Weltklimarat IPCC in seinem Bericht von 1990: "Es gibt keine überzeugenden Hinweise darauf, dass sich der Meeresspiegelanstieg im 20. Jahrhundert beschleunigt hätte"


en

German Review: Sea Level Rise Way Below Projections - No Hard Basis For Claims Of Accelerating Rise - IPCC 1990: "No convincing evidence that sea level rise accelerated in the 20th century"
de en en Modern Sea Level Fluctuations From a Geological Perspective

de Im geologischen Maßstab

hat der Meeresspiegel in den vergangenen 180 Millionen Jahren etwa die Hälfte der Zeit deutlich höher gelegen

als heute.

en Sea level rise since Middle Jurassic Period.

Oh Say Can You See...
Modern Sea Level Fluctuations From a Geological Perspective?

The short answer is no.

de Meeresspiegelentwicklung der vergangenen 14.000 Jahre
en Global Mean Sea Level (11800 to present)

Betrachtet man nur die Nacheiszeit, also die letzten 12.000 Jahre, dann erkennt man einen rapiden Anstieg

in den ersten 8000 Jahren mit Anstiegsraten von mehr als 10 Millimetern pro Jahr,

der ab 4000 v. Chr. stark abbremst.

Der heutige Meeresspiegelanstieg mit 1-3 mm pro Jahr fällt in diese erschlaffende Endphase der nacheiszeitlichen Entwicklung.

en A Geological Perspective of Recent Sea Level Rise

All of the estimated sea level rise since 1700 is represented by the light blue blob and dark blue line inside the black oval.

Sea level isn't doing anything now that it wasn't already doing before All Gore invented global warming.

And Holocene sea level changes have been insignificant relative to the Holocene transgression...

de Meeresspiegelentwicklung der vergangenen 300 Jahre
en Global Mean Sea Level (1700-2013)

de Wir zoomen uns jetzt weiter ein und betrachten die letzten 300 Jahre.

Dem allgemeinen Trend ist eine Zyklik aufgeprägt, die dem Rhythmus von Warm- und Kaltphasen folgt.

Während der Kleinen Eiszeit vor 300 Jahren wuchsen die Eismassen der Erde an, so dass der Meeresspiegelanstieg stoppte.

Im Übergang zur Modernen Wärmeperiode begann der Meeresspiegel dann wieder zu steigen - erst langsam, dann schneller, bis um 1920 die volle Geschwindigkeit erreicht wurde.

Seit knapp 100 Jahren hat sich an dieser Anstiegsrate nichts geändert.

Es ist daher schwer, an dieser Entwicklung einen menschengemachten Einfluss erkennen zu wollen, da der vermehrte anthropogene CO2-Ausstoß erst vor ca. 50 Jahren richtig ins Gewicht fiel.
Spekulationen widerlegt


en

Refuted speculation


fr

Réfute des spéculations
Proportionalität zwischen Meeresspiegelanstieg und Lufttemperatur

de

Das Institut für Küstenforschung am Forschungszentrum Geesthacht (GKSS) hat in einer Pressemitteilung vom 7.8.2008 nachgewiesen, dass es in den letzten 1000 Jahren keinen direkten Zusammenhang zwischen globaler Lufttemperatur und Meeresspiegel-Veränderung gegeben hat.

Im Januar 2007 hatte S. Rahmstorf in der Zeitschrift Science einen Artikel veröffentlicht, in dem er basierend auf den Temperaturanstiegs-Hypothese des IPCC einen spekulativen Anstieg des Meeresspiegels bis zum Jahr 2100 von 50 bis 140 cm verkündete.

Offenbar war Rahmstorf der vom IPCC prognostierte Anstieg von 14 bis 43 cm nicht spektakulär genug, weshalb er seine "voreiligen Wissensansprüche" (von Storch) öffentlich machen wollte.

EIKE Europäisches Institut für Klima und Energie Jena
2008-09-01

de

Prof. Rahmstorfs Meeresspiegel Spekulationen vom GKS Professor von Storch widerlegt!
Meeresspiegel - Tatsachen


en

Sea level - Reality


fr

Niveau des océans - La réalité
Für den Anstieg der Meeresspiegel wurde bisher immer das Abschmelzen der Pole angeführt. Tatsächlich wurde es in der Arktis wärmer und die Sommer dort länger jedoch in der Antarktis kälter. Den Beweis, dass die seit ca. 1965 beobachtete Schmelze des arktischen Eises natürliche Ursachen hat, nämlich die Verlängerung der arktischen Sommer lieferten 2003 Seymour Laxon, Nell Peacock & Doug Smith.
Den Beweis, dass es derzeit keine grösseren Meersspiegelanstiege gibt, liefert eine aktuelle Zusammenfassung der INQUA Commission on Sea Level Changes and Coastal Evolution aller verfügbaren Daten bezüglich Meeresspiegel "A History and Projection of Global Sea Level" von Moerner et al. 2004. Darin wird eindeutig nachgewiesen, dass es seit ca. 150 Jahren KEINEN Trend zu einer beschleunigten Meeresspiegelerhöhung gibt im Gegensatz zu den Aussagen IPCC!
Fazit: Es gibt ausser den natürlichen Schwankungen keinen anthropogen verursachen Anstieg der Meeresspiegel!
Meeresspiegel in der Adria stagnierte während Kältephasen und beschleunigte sich während Wärmephasen
Pacific Sea Level measurements
The average for the Australian coast acc. to the National Tidal Facility in Adelaide (excluding Adelaide itself which is is known to have a major sinkage) is for a sea level rise of only +0.15 mm/yr.
That compares with IPCC claims of +3.0 mm/yr.
Teil 4: Einluss der Sonne
en Solar impact
fr Impact du soleil
Sea level rise and solar cycles
Sea Level Rise and Solar Cycles

Wattts Up With That? (Antony Watts)
2009-04-07 en Archibald on sea level rise and solar cycles

The saw tooth pattern reminded someone of the solar cycles and he overlaid it.

The correlation is striking.

The reason the Earth came out of the Little Ice Age is because we had a more active Sun, more active than at any time for the previous 8,000 years.

Holgate determined that 70% of the sea level rise of the 20th century was due to thermal expansion of the oceans and the rest due to melting glaciers.

Now that the Sun has become less active, that will work in reverse.

2012-02-03 en Quantifying Sea Level Fall
Sea Level Rise and Solar Activity
Sea Level Rise and Solar Activity

Wattts Up With That? (Antony Watts)
2010-12-01 en Sea Level Rise and Solar Activity

Successful prediction of levels of solar activity suggests that prediction of other phenomena driven by solar activity might also be successful, and useful.

Sea level rise is a concern of some people.

President Obama said in June 2008 that his nomination in the Democratic primaries was "the moment when the rise of the oceans began to slow".

The above graph shows the satellite data from the University of Colorado from late 1992.

A change of trend is evident in 2004.

Prior to that, sea level was rising at 4.2 mm/annum, and after 2004 at 1.5 mm/annum.

2003 was the recent peak in solar activity in terms of flares, F10.7 flux and proton flux.

It is likely that the lower rate of rise post 2004 is due to lower subsequent solar activity.

2012-09-15 en F10.7 Flux, Sea Level and the Holocene
Teil 5: Einluss der Ozeanischen Oszillationen
en Impact of the Ocean oscillations
fr Impact des oscillations océaniques
La Ola im Ozean: Die klimazyklische Stadionwelle
Die Pazifisch Dekadische Oszillation (PDO) besitzt eine Zyklendauer von ca. 60 Jahren und erhöht bzw. erniedrigt die Temperatur um jeweils etwa 0,2°C je nach PDO-Phase.

Der Erwärmungsstop im Jahr 2000 fällt mit dem Abstieg der PDO zusammen und stellt eine Wiederholung der Situation aus den 1940er Jahren dar

Aber es gibt ja nicht nur die PDO, sondern eine ganze Flöte von weiteren klimasysteminternen Zyklen.

Nehmen wir zum Beispiel die AMO. Auch sie besitzt einen etwa 60-jährigen Zyklus, der jedoch um 10-20 Jahre zeitverzögert zur PDO abläuft.

Und auch die Nordatlantische Oszillation (NAO) schwingt in diesem Größenmaßstab.

Ist es nicht verwunderlich, dass all diese Zyklen in ähnlichen Zeitmaßstäben schwingen, wenn auch nicht synchron?
Sechzig-Jahres-Ozeanzyklus jetzt auch in der Meeresspiegelentwicklung gefunden


en

Is There a 60-Year Oscillation in Global Mean Sea Level?
de Die Meeresspiegelentwicklung des letzten Jahrhunderts ist durch einen ausgeprägten 60-Jahres-Zyklus geprägt.

Auch das Ende der Erwärmung 1940 und 2000 lag wiederum 60 Jahre auseinander.

en We find that there is a significant oscillation with a period around 60-years in the majority of the tide gauges examined during the 20th Century, and that it appears in every ocean basin.
Die kalte Sonne (Fritz Vahrenholt & Sebastian Lüning)
2012-09-20 de Sechzig-Jahres-Ozeanzyklus jetzt auch in der Meeresspiegelentwicklung gefunden

Wenn man die Temperaturentwicklung der letzten gut hundert Jahre anschaut muss man sich fast ein wenig wie der berühmte Alfred Wegener fühlen:

Deutlich zeichnet sich in den Daten ein Zyklus ab, der etwa 60 Jahre umfasst.

So begannen die beiden jüngsten Erwärmungsepisoden gegen 1915 und 1975, also im Abstand von 60 Jahren.

Aber auch das Ende der Erwärmung 1940 und 2000 lag wiederum 60 Jahre auseinander.

Der Weltklimarat kann sich mit dieser zyklischen Eigendynamik des Klimas so gar nicht anfreunden.

Anstatt den Ozeanzyklus als steuernde Größe anzuerkennen, denkt sich das Gremium allerlei wackelige Hilfskonstruktionen aus, nur um den deutlichen Herzschlag der Natur nicht in die Temperaturprognosen einbauen zu müssen.

Und die Quittung kam prompt: Keines der ehemals so hochgelobten IPCC-Modelle hat den seit nunmehr 14 Jahren andauernden Erwärmungsstop vorhergesagt.

Warum sträubt sich der IPCC so sehr gegen eine sinnhafte Einbeziehung der Ozeanzyklen?

Es spricht viel dafür, dass ein gewichtiger Teil der Erwärmungsepisode von 1977-2000 auf das Konto der aufstrebenden Ozeanzyklen geht.

Denn genau in dieser Zeit stieg auch die Pazifisch Dekadische Oszillation (PDO) stark an und verharrte dann auf einem warmen, hohen Plateau.

Die Mitwirkung der Ozeanzyklen würde damit automatisch die Klimakraft des CO2 schwächen.

Kritik am CO2 hingegen ist beim IPCC unerwünscht und wird mit allen Mitteln unterdrückt.

Aus der Kurzfassung

Wir haben lange Datenreihen von Küstenpegeln in allen Ozeanbecker der Erde untersucht, um zu überprüfen, ob sich in der globalen Meeressiegelentwicklung ein etwa 60-Jahre langer Zyklus wiederfinden lässt, und ob es sich um einen wirklich global wirkenden Zyklus oder nur ein Artefakt in einer kleinen Anzahl von Pegeln handelt.

Wir fanden, dass in der Tat eine bedeutende Oszillation mit einer Periode von etwa 60 Jahren in der überwiegenden Mehrheit der untersuchten Küstenpegel während des 20. Jahrhunderts existiert, und dass diese in jedem Ozean der Erde auftritt.

Mittelt man die Küstenpegel für die einzelnen Ozeanbecken, so zeigt sich, dass sich die Phase und Amplitude der Zyklik im Nordatlantik, westlichen Nordpazifik und Indischen Ozean stark ähneln.

Im westlichen Südpazifik hingegen setzt die Entwicklung um etwa 10 Jahre verzögert ein.

Die einzige untersuchte Region, in der kein deutlicher 60-Jahreszyklus im Meeresspiegel existiert, ist der zentrale und östliche Nordpazifik.

Die in den Küstenpegeldaten identifizierte Phase des 60-Jahres-Zyklus ist so ausgebildet, dass sich der Meeresspiegel im Nordatlantik, westlichen Nordpazifik und Indischen Ozean seit etwa 1985-1990 zusätzlich angehoben hat.

Leider gibt es in Bezug auf die zeitliche als auch räumliche Abdeckung noch nicht genügend Küstenpegeldaten, um den 60-Jahreszyklus in der Meeresspiegelentwicklung zweifelsfrei nachweisen zu können.

Dennoch sollte der Zyklus berücksichtigt werden, wenn es um Betrachtungen zur Beschleunigung des Meeresspiegelanstiegs und die regionale Meeresspiegelentwicklung geht.

Aus dem Diskussionsabschnitt

Bis wir nicht vollständig verstanden haben, ob die Meeresspiegelentwicklung im Zeitraum von mehreren Jahrzehnten durch charakteristische Umbiegepunkte oder einen 60-Jahres-Zyklus geprägt wird und sich dies global auswirkt, sollte man mit Berechnungen eines beschleunigten Meeresspiegelanstiegs sehr vorsichtig sein.

Ausnahmen wären, wenn die verwendeten Datenreihen länger als zwei Zyklenperioden sind oder das Modell die Möglichkeit einer 60-Jahres-Oszillation bereits berücksichtigt.

Diese Einschränkungen gelten insbesondere für die Interpretation eines beschleunigten Meeressiegelanstiegs unter Verwendung von Satellitendaten, die lediglich 20 Jahre zurückreichen sowie für einzelne Pegel mit kurzen Datenreihen.
GEOPHYSICAL RESEARCH LETTERS
Don P. Chambers, Mark A. Merrifield, R. Steven Nerem
2012-08-17 en Is There a 60-Year Oscillation in Global Mean Sea Level?

We examine long tide gauge records in every ocean basin to examine whether a quasi 60-year oscillation observed in global mean sea level (GMSL) reconstructions reflects a true global oscillation, or an artifact associated with a small number of gauges.

We find that there is a significant oscillation with a period around 60-years in the majority of the tide gauges examined during the 20th Century, and that it appears in every ocean basin.

Averaging of tide gauges over regions shows that the phase and amplitude of the fluctuations are similar in the North Atlantic, western North Pacific, and Indian Oceans, while the signal is shifted by 10 years in the western South Pacific.

The only sampled region with no apparent 60-year fluctuation is the Central/Eastern North Pacific.

The phase of the 60-year oscillation found in the tide gauge records is such that sea level in the North Atlantic, western North Pacific, Indian Ocean, and western South Pacific has been increasing since 1985-1990.

Although the tide gauge data are still too limited, both in time and space, to determine conclusively that there is a 60-year oscillation in GMSL, the possibility should be considered when attempting to interpret the acceleration in the rate of global and regional mean sea level rise.
Meeresspiegelentwicklung der letzten 150 Jahre eng an natürliche Ozeanzyklen gekoppelt
Meeresspiegelentwicklung im tropischen Pazifik folgt natürlichen Zyklen
Teil 6: Grundwasserbeitrag am Meeresspiegelanstieg
en Impct of groundwater pumping on sea-level change
fr Impact du pompage d'eau sur le niveau des oceans
Neue Arbeit in Nature Geoscience: Grundwasserbeitrag am Meeresspiegelanstieg größer als bislang vermutet


en

Source found for missing water in sea-level rise
Die kalte Sonne (Fritz Vahrenholt & Sebastian Lüning)
2012-07-13 de Neue Arbeit in Nature Geoscience: Grundwasserbeitrag am Meeresspiegelanstieg größer als bislang vermutet

Der Meeresspiegel steigt, dies ist unbestritten. Jedes Jahr kommen momentan etwa 1,8 mm dazu.

Und das ist auch wenig verwunderlich, denn wir befinden uns in einer klimatisch warmen Phase - der Modernen Wärmeperiode - die kräftig an den großen Eisschilden in den Polargebieten sowie den vielen Gebirgsgletschern nagt.

Das hier produzierte Schmelzwasser gelangt dann ins Meer.

Aber die warmen Temperaturen besorgen noch einen zweiten Effekt. Warmes Wasser nimmt nämlich mehr Platz ein als kaltes, so dass sich das Volumen des in den Ozeanen gespeicherten Meerwassers erhöht.

Da das Ozeanbecken nach unten und zu den Seiten begrenzt ist, kann sich der Wasserkörper nur nach oben ausdehnen und trägt so ebenfalls seinen Teil zum Meeresspiegelanstieg bei.

Die entsprechenden Anteile von Eisschmelze und Wasserausdehnung kann man berechnen, und genau dies hat der Weltklimarat in seinem letzten Bericht von 2007 auch getan. Überraschenderweise kamen die Forscher jedoch nicht auf einen Meeresspiegelanstieg von 1,8 mm pro Jahr, sondern nur auf 1,1 mm.

Irgendetwas schien also noch zu fehlen.
Nun scheint das Rätsel gelöst und die fehlenden 0,7 mm pro Jahr gefunden zu sein.
Focus
2012-05-20 de Nicht nur Klima und Polkappen sind Ursache
Rätsel gelöst: Warum der Meeresspiegel so rasant steigt


Der Meeresspiegel steigt jährlich um etwa 1,8 Millimeter.

Bisher konnten davon mit Klimaerwärmung und dem Abschmelzen der Polkappen jedoch nur 1,1 Millimeter erklärt werden.

Aber wo kommen die restlichen Wassermassen her? Dieses Rätsel scheint jetzt gelöst zu sein.

Grund für den Anstieg der vergangenen Jahrzehnte sei neben dem Klimawandel vor allem die massive Nutzung von Grundwasser.

Die Wissenschaftler wollen das letzte Puzzlestück zum Mysterium "steigender Meeresspiegel" gefunden haben.

Das Grundwasser, so die These, werde aus unterirdischen Flüssen, Seen oder anderen Reservoirs abgepumpt und gelange so in die Ozeane.

Die Reserven im Boden würden hingegen nicht mehr aufgefüllt.
Nature
2012-05-20 en Source found for missing water in sea-level rise

During the latter half of the twentieth century, global sea level rose by about 1.8 millimetres per year, according to data from tide gauges.

The combined contribution from heating of the oceans, which makes the water expand, along with melting of ice caps and glaciers, is estimated to be 1.1 millimetres per year, which leaves some 0.7 millimetres per year unaccounted for.

This gap has been considered an important missing piece of the puzzle in estimates for past and current sea-level changes and for projections of future rises.

It now seems that the effects of human water use on land could fill that gap.

A team of researchers reports in Nature Geoscience that land-based water storage could account for 0.77 millimetres per year, or 42%, of the observed sea-level rise between 1961 and 2003.

Of that amount, the extraction of groundwater for irrigation and home and industrial use, with subsequent run-off to rivers and eventually to the oceans, represents the bulk of the contribution.
de Aus der Panik-Küche en From the panic laboratory fr De la marmite des alarmistes
Teil 7: Panikmache und Relaität
en Panic and Reality
fr Panique et réalité
Panikmeldungen


en

Panic


fr

Panique
de "Experten auf dem de Extrem Wetter Kongress en Extreme Weather Congress 2008 in Hamburg gehen davon aus, dass die Arktis ab 2050 im Sommer eisfrei sein wird."

Über dreissig Meteorologen, Klimatologen, politische Experten der Bundesregierung und Medienvertreter haben über die Gefahren bei extremen Wetterbedingungen referiert und diskutiert.

Eine große Gefahr stellt das Abschmelzen der Polargebiete sowie des grönländischen Eises dar, das zu einem Meeresspiegelanstieg von bis zu 7 m führen kann.

Claudia Hangen - Heise Online/Telepolis
2008-03-29

de

Arktisches Eis schmilzt immer schneller
Pensée unique
2009-07-24

fr

"Sale temps pour la planète"
France 5 nous a infligé le 21 Juillet 2009 un plaidoyer vidéo larmoyant et sentencieux, réalisé en 2007, sur la peur panique qu'éprouveraient des malheureux habitants des îles Tuvalu qui, nous dit-on, auraient commencé à fuir en masse leurs atolls menacés d'engloutissement (selon des "experts").

Tout cela, bien entendu à cause du 'réchauffement' changement climatique (anthropique, cela va de soi).
2010-08-01

fr

Encore une nouvelle rassurante
Realität


en

Reality


fr

Réalité
Panik-Angaben des IPCC werden immer kleiner
"Anthropogener" Meeresspiegelanstieg - Vom Konstrukt zur Panik?
Die IPCCPrognosen passen sich mehr und mehr der Realität von ca. 20 cm/Jahrhundert an.
Abb. 10. Prognosen des IPCC zum Meeresspiegelanstieg im 21. Jahrhundert
Aussage betreffend Anstieg des Meeresspiegels:
1990 prognoszitierte der Welt-Klimarat einen Anstieg des Meeresspiegels von von über 60 cm. Einige Jahre später waren es 50 cm und heute spricht der Klimarat von nur noch über 30 cm.
Tuvalu - Pacific Islands
Pegelmessungen widerlegen die Panik-Aussagen
Aussagen von Alvo v. Alvensleben
Pegelmessungen über 3 Jahrzehnte in Tuvalu, einem kleinen pazifischen Inselstaat, und in Diego Garcia, dem englischen Flottenstützpunkt mitten im Indischen Ozean, zeigten keine Veränderung des Meeresspiegels. Lediglich von Zeit zu Zeit, wenn der Wind den El-Niño-Strom nach Osten trieb, sank der Meeresspiegel für einige Zeit um bis zu 30 cm, um anschliessend zu normalen Werten zurückzukehren. (Eine dpa-Meldung über den drohenden Untergang von Tuvalu, die ich in der Badischen Zeitung fand, habe ich auf Grund meiner Informationen beanstandet, und 3 Tage später druckte die BZ einen Widerruf, nachdem sie mit dem Konsul von Tuvalu gesprochen hatte).
Entsprechendes gilt für den Inselstaat der Malediven, deren Vertreter in Marrakesch auf die drohende Überflutung ihrer Inseln hingewiesen haben sollen. Eine schwedische Untersuchungskommission unter Leitung eines führenden Experten für die Frage von Meeresspiegelschwankungen (Prof. Mörner) hat das Problem auf den Malediven untersucht und überhaupt keine Zunahme des Meeresspiegels für die letzten 100 Jahre gefunden.
Gemessene Meeresspiegelschwankungen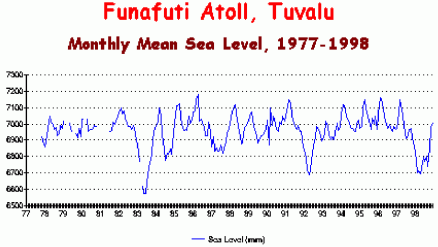 The Maldives Sea Level Project
Panik von IPCC
Entwarnung
In the last decade, there are no signs of any rise in sea level.
Hence, we are able to free the islands from the condemnation to become flooded in the 21st century.
Entschädigung für die "untergehenden" Inseln
xxxxxxxxxxxxxxxxxxxxxxxxxxxxxxxxxxxxxxxxxxxxxxxx
Senat von North Carolina erteilt Rahmstorfs beschleunigtem Meeresspiegel eine Absage


en

Science vs AGW Advocacy in North Carolina
Obama lässt Meeresspiegel senken ...


en

Obama commands sea level to lower ...


fr

Obama baisse le niveau des océans ...
Fachzeitschrift 'Climate of the Past' lehnt Meeresspiegel-Manuskript von Rahmstorf-Gruppe ab: Gutachter finden fundamentale Fehler in der Methodik
Das Tessin liegt praktisch am Meer
Basler Zeitung
2013-11-07 de Das Tessin liegt praktisch am Meer

Würde alles Eis schmelzen, stiege der Meeresspiegel dramatisch an.

«National Geographic» hat für dieses Szenario eine neue Weltkarte angefertigt. Und die ist eindrücklich.
Fragwürdige Finte: Neuer IPCC-Bericht behauptet Verschärfung des Meeresspiegelanstiegs, während neue Studien das genaue Gegenteil fanden
Nachträgliche Korrekturen der Satelliten-Meeresspiegeldaten: Was nicht passt wird passend gemacht?
Pünktlich zum UN-Klimafest in Doha: Neuer Alarm aus Potsdam
Teil 8: Wissenschaftliche Forschungen
en Scientific research
fr Recherces scientifiques
Nils-Axel Mörner


Dr., Head of the Paleogeophysics and Geodynamics department at Stockholm University in Sweden.
He is past president (1999-2003) of the INQUA Commission on Sea Level Changes and Coastal Evolution, and leader of the Maldives Sea Level Project.
Dr. Mörner has been studying the sea level and its effects on coastal areas for some 35 years.
2000-2007 Hauptberichterstatter beim IPCC für den Meeresspiegel-Anstieg.
Zweite Internationale Klima- und Energiekonferenz in Berlin
Dr. Nils-Axel Mörner, Head of the Paleogeophysics and Geodynamics department at Stockholm University in Sweden.
2009-12 de Teil 1 Teil 2
2009-12-04 en Sea level changes from past and present records to future estimates 2003-05-07 en Estimating future sea level changes from past records

Abstract

In the last 5000 years, global mean sea level has been dominated by the redistribution of water masses over the globe.

In the last 300 years, sea level has been oscillation close to the present with peak rates in the period 1890-1930.

Between 1930 and 1950, sea fell.

The late 20th century lack any sign of acceleration.

Satellite altimetry indicates virtually no changes in the last decade.

Therefore, observationally based predictions of future sea level in the year 2100 will give a value of + 10F10 cm (or +5F15 cm), by this discarding model outputs by IPCC as well as global loading models.

This implies that there is no fear of any massive future flooding as claimed in most global warming scenarios.
| | |
| --- | --- |
| Klaus-Eckart Puls | Dipl.-Meteorologe, FU Berlin |
Klaus-Eckart Puls: Wo bleibt die vorhergesagte Erderwärmung?
Unser Klima wird im Weltraum gemacht - Freispruch für CO2
Seit ca. 30 Jahren nehmen Eismasse und Eisbedeckung am Nordpol ab, am Südpol zu.

Während das stetige Wachsen des antarktischen Eispanzers in den Medien und damit in der Öffentlichkeit kaum zur Kenntnis genommen wird, sorgen die Meldungen vom Nordpol regelmäßig für panikartige Darstellungen überfluteter Küsten. Einer physikalischen Nachprüfung halten solche Meldungen nicht stand, denn wenn schwimmendes Eis schmilzt, dann steigt der Wasser-Spiegel um keinen Millimeter, weder in einem Cola-Glas noch im Nordmeer ("Archimedisches Prinzip").
Unterhalb von 1500 m schmilzt in Grönland zwar Eis, aber die gleiche Menge wird derzeit im dortigen Höhenbereich 1500-3000 m akkumuliert [4]. Die Massenbilanz ist in etwa ausgeglichen, für einen Meeresspiegelanstieg bleibt nichts.
Solange die Hoch-Plateaus von Grönland und Antarktika nicht schmelzen, gibt es keine Flut. Damit das geschieht, müßte die globale Erwärmung um 10..-20..°C zunehmen, denn: Der vertikale Temperaturgradient in der Atmosphäre beträgt rund 0.7°C/100m. Das bedeutet: Bei 1°C Erwärmung klettert die (mittlere) "Null-Grad-Grenze" um ca. 130 m nach oben. Das Hochplateau Grönlands liegt auf 3000 m, dasjenige der Antarktis auf 4000 m; der Rest ist ein einfaches Rechen-Exempel. Dabei muß man dann noch berücksichtigen, daß die mittlere Lufttemperatur der Arktis im Jahresmittel deutlich unter Null liegt.
... Daraus folgen 4 mm/Jahrzehnt, 4 cm/Jahrhundert, entsprechend rund 20% des natürlichen Anstieges von jeweils rund 20 cm in den letzten Jahrhunderten. Selbst wenn man das bei einer weiteren IPCC-Temperatur-Prognose von 3°C(??) bis 2100 hochrechnet* - eine Überflutungs-Katastrophe von Inseln und Küsten würde daraus nicht herzuleiten sein....
Ein IPCC-Insider plaudert aus der Schule
Prof. Dr. Nils-Axel Mörner war von 2000-2007 Hauptberichterstatter beim IPCC für den Meeresspiegel-Anstieg. Er leitet seit Jahren das Stockholmer Institut für Paläogeowissenschaften. Nach seinem Ausscheiden beim IPCC setzte er sich in einem Interview [28] sehr kritisch mit der beim IPCC geführten Meeresspiegel-Betrachtung auseinander:
"I have been the expert reviewer for the IPCC, both in 2000 and last year (2007). The first time I read it, I was exceptionally surprised. First of all, it had 22 authors, but none of them, none, were sea-level specialists. They were given this mission, because they promised to answer the right thing. Again, it was a computer issue" ..und weiter :"If you go around the globe, you find no rise anywhere. But they (IPCC) need the rise, because if there is no rise, there is no death threat. They say there is nothing good to come from a sea-level rise, only problems, coastal problems. If you have a temperature rise, if it's a problem in one area, it's beneficial in another area. But sea level is the real 'bad guy', and therefore they have talked very much about it. But the real thing is, that it doesn't exist in observational data, only in computer modelling"...
..ein vernichtendes Urteil eines IPCC-Insiders zu allen Überflutungs-Szenarien und letztlich auch zur Arbeitsweise des IPCC.
F a z i t :
Einen weltweit einheitlichen Meeresspiegel gibt es nicht. In der Erdgeschichte hat es durch vielerlei geophysikalische und meteorologische Prozesse stets Veränderungen des Meeresspiegels gegeben, die bis heute auftreten. Die globale Massenbilanz des Eises von Nordpol, Grönland und Antarktis ist derzeit und für eine überschaubare Zukunft positiv, so daß schmelzendes Nordpoleis keinen Beitrag zu einem Meeresspiegelanstieg leistet. Seit der letzten Eiszeit ist der Meeresspiegel (unterbrochen von einigen Regressionen) stetig gestiegen, im Mittel um einen halben bis einen Meter pro Jahrhundert, z.B. an der deutschen Nordseeküste immer noch 35 cm/Jahrhundert innerhalb der letzten 400 Jahre. Dabei haben anthropogene Einflüsse keine Rolle gespielt. Die verfügbaren Pegel zeigen global im 20. Jahrhundert einen Anstieg von etwa 16-18 cm, deutlich weniger als in den Jahrhunderten davor. Eine Beschleunigung des Anstieges ist nicht erkennbar, bei der überwiegenden Zahl der Auswertungen zeigt sich eher eine Abschwächung. Ein anthropogenes Signal des Meeresspiegel-Anstieges ist nicht zu finden! Der "Weltklimarat" (IPCC) hat seine Prognosen von im Mittel 180 cm (1990) in mehreren zwischenzeitlichen Schritten auf im Mittel 38 cm (2007) zurückgenommen, und somit nach unten hin weitgehend an den noch geringeren Trend der letzten Jahrzehnte angepaßt. Die in der Öffentlichkeit immer wieder angeheizte Krisenstimmung bis hin zur Panikmache bezüglich bevorstehender Küsten-Überflutungen hat keine naturwissenschaftliche Grundlage.
Klima-Kälte-Trend in der Antarktis
Bangladesch taucht auf und wird größer!
en Bangladesch emerges and gets greater!
fr Bangladesch émerge et devient plus grand!
Panikmeldungen
IPCC hat den Untergang von Bangladesch vorhergesagt, "den Verlust von 17% seiner Landmasse bis 2050 aufgrund des Meeresspiegel-Anstieges infolge der globalen Erwärmung"

Das Nobel-Preis-Träger-Gremium sagt, daß 20 Millionen Menschen in Bangladesch bis 2050 zu Umweltflüchtlingen werden, und daß das Land 30% seiner Nahrungsmittel-Produktion verlieren wird.

Der Direktor des NASA-Goddard-Instituts James Hansen zeichnet ein noch grauenhafteres Bild mit der Vorhersage, das ganze Land könnte bis zum Ende des Jahrhunderts unter Waser stehen.

Da hielt bisher auch das Potsdamer Institut PIK gut mit: Schellnhuber etwa zeigt sich überrascht von der Dynamik des Klimawandels und sieht "im schlimmsten Fall" einen Meeresanstieg von zwei Metern bis 2100 und eine "biblische Völkerwanderung" kommen. Denn betroffen wären in den Küstenregionen 500 Millionen bis eine Milliarde Menschen. Natürlich trifft es besonders die Ärmsten wie in Bangladesch
Realität
Die Realität sieht offensichtlich und glücklicherweise(!!) ganz anders aus, wie eine soeben in Dhaka vorgestellte Studie zeigt

Wissenschaftler des Instituts für Umwelt und Geographie Dhaka haben Satelliten-Daten der letzten 32 Jahre ausgewertet und sagen, Bangladesch's Landmasse hat in dieser Zeit jährlich um 20 km2 zugenommen.

Seit 1973 summierte sich das erheblich und beachtlich: "Satellitenbilder im Vergleich mit Landkarten zeigen seit 1973, daß rund 1000 km2 Land aus dem Meer entstanden sind.

Zwei Gründe zeichnen dafür verantwortlich:

(1) Die beiden großen Ströme Brahmaputra und Ganges transportieren ständig große Mengen Schwebestoffe stromabwärts, die sich im Delta ablagern,

(2) Die vom IPCC seit 15 Jahren prognostizierte Beschleunigung des Meeresspiegel-Anstiegs findet nicht statt, sondern der Anstieg verlangsamt sich weltweit.
Antwort auf Panikaufruf
en Response to panic call
fr Réponse à une déclaration de panique
Fehler in der IPCC Wissenschaft


en

Errors in IPCC climate science


fr

Erreurs dans la science du GIEC
3 Auswirkungen von und auf Meeresströmungen


en

Effects on Ocean currents


fr

Effets sur courants marins
Teil 1: Allgemein
en General
fr Générale
Videos:
Teil 2: Der Golfstrom
en The Gulf Stream
fr Le gulf stream
Ein gigantisches Wasserförderband befördert warmes Wasser aus dem Pazifik in den Nordatlantik.

Kaltes Wasser taucht dort ab und fliesst zum Pazifik zurück.
Teil 3: Einfluss des Klimawandels auf den Golfstrom
en Impact of Climate Change on the Gulf Stream
fr Impact du changement climatique sur le gulf stream
Vergangenheit:
Die globale Erwärmung kann auch weniger offensichtliche Wirkungen haben: Der Nordatlantikstrom als Teil des globalen Förderbands wird unter anderem dadurch angetrieben, dass sich im Nordpolarmeer mit dem Golfstrom herangetragenes Wasser abkühlt. In der Folge erhöht sich die Dichte des Oberflächenwassers, das daraufhin in tiefere Schichten des Ozeans absinkt. Dieses Absinken führt erstens zu einem Sog, der immer wieder neues Oberflächenwasser heranströmen lässt, und setzt zweitens eine dauernde Zirkulation des Meerwassers in Gang, weil sich in der Tiefsee eine in entgegengesetzte Richtung fliessende Strömung herausbilden kann. Dieses Zusammenspiel wird auch thermohaline Zirkulation genannt.
In den vergangenen 120.000 Jahren ist der Nordatlantikstrom mehrfach unterbrochen worden. Ursache dafür war der Zufluss grosser Mengen Süsswassers, welches den Verdichtungsprozess abschwächte und das Absinken des Oberflächenwassers verhinderte. Bei einem dieser Ereignisse entleerte sich ein in Kanada gelegener riesiger Schmelzwassersee, der sich in der Erwärmungsphase am Ende einer Eiszeit gebildet hatte. Die enormen Mengen an zusätzlichem Süsswasser verhinderten das Absinken des Meerwassers, und der Nordatlantikstrom setzte aus. Für Europa bedeutete dies die Fortsetzung der eigentlich gerade zu Ende gehenden Eiszeit.
Teil 4: Entwarnung für den Golfstrom
en No panic concerning the Gulf Stream
fr Pas de panique concernant le gulf stream
de
Spiegel Online
2010-03-26 de Europas Meeresheizung trotzt dem Klimawandel

Der Klimawandel könnte den Golfstrom zum Erliegen bringen und Nordeuropa drastisch abkühlen - dieses Szenario hatten Forscher lange befürchtet.

Eine neue Studie aber zeigt jetzt: Der Golfstrom ist keineswegs schwächer geworden - im Gegenteil.
Aussagen
Auch der Golfstrom verhält sich vollkommen anders als prophezeit. Obwohl die die Eisschmelze in der Arktis in den Sommern der letzen Jahren recht ausgeprägt war, hat das zufließende salzarme Wasser den Golfstrom keineswegs abgeschwächt, wie errechnet. Ganz im Gegenteil konnte man den stabilsten und stärksten Golfstrom überhaupt messen.
Mit anderen Worten: nie zuvor in den letzten mehr als Hundert Jahren war eine Abschwächung des Golfstroms UNwahrscheinlich als im Moment.
Das ist umso tragischer, da er zentrales Element der Apokalyptischen Folgen des Klimawandels für Europa ist. Dass ein kälteres Klima für den Menschen, ein aus Tropen stammendes und deshalb hitzevertragendes Tier, weitaus größere Probleme mit sich bringt als ein wärmeres, lässt sich nicht zuletzt an Hollywodfilmen wie "Day after Tommorrow" sehen. Auch die Artenvielfalt nimmt mit zunehmenden Temperaturen fast exponentiell zu.
Es ist nur eine Frage der Zeit bis auch Klimatologen festgestellt haben werden, dass Warnungen vor einer neuen Eiszeit noch lukrativer sind als vor einer Erderwärmung. Vielleicht ist die jüngste Abkühlung der Südhalbkugel ja nur der erste Schritt einer neuen Eiszeit. Dann erzählt man CO

2

erhöhe in großen Höhen das Albedo (Abstrahlung) der Erde, sodass mehr Energie der Sonne abgestrahlt wird und die Erde auskühlt. Oder man fabuliert sich einen anderen Schwachsinn menschengemachter Abkühlung zusammen.
Der Phantasie sind keine Grenzen gesetzt.
en
fr
Teil 5: Panik-Meldungen
en Panic sites
fr Pages sur la panique
de Aus der Panik-Küche en From the panic laboratory fr De la marmite des alarmistes
Wikipedia: Panikmeldungen betreffend den Golfstrom


en

Wikipedia: Panic concerning the Gulf Stream


fr

Wikipedia: Panique concernant le Gulf Stream
4 Auswirkungen auf atmosphärische Strömungen


en

Impact on atmospheric circulations


fr

Impacte sur des circulations atmosphériques
↑